[caption id="attachment_5680" align="aligncenter" width="700"]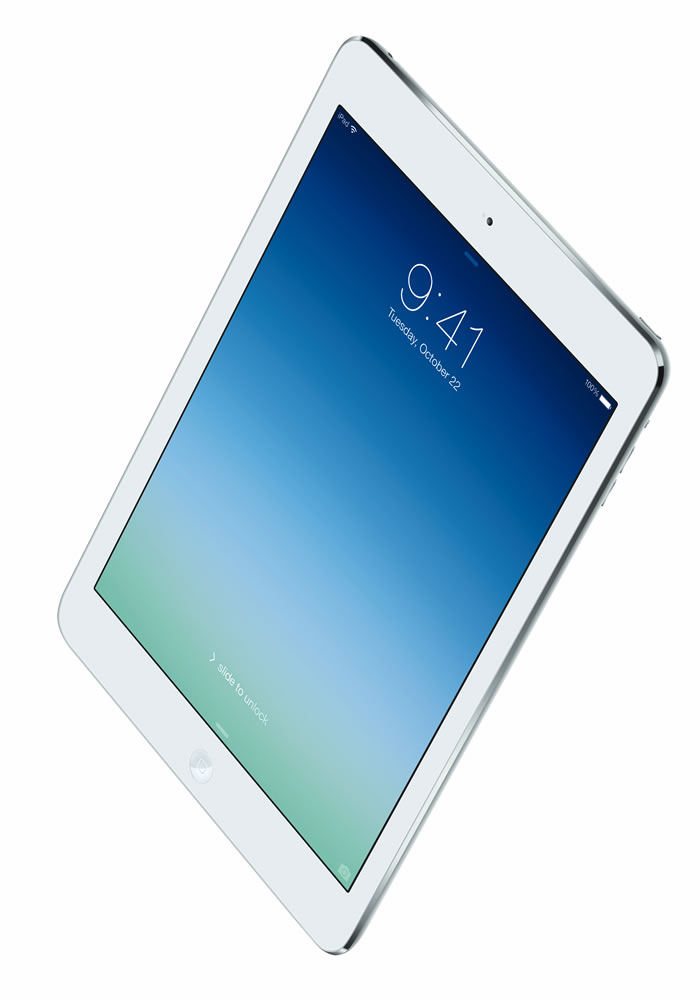 Apple iPad Air - the first major update to iPad since 2011.
[/caption]
Apple iPad Air : The Lightest Full Size Tablet
The Apple iPad 5 we were all waiting for has arrived but from now its needs to be referred to as the Apple iPad Air. The name change is clearly making a statement that it is the "lightest full-size tablet" in the world today. Its about time that Apple's iPad underwent a major redesign as its basically been the same since March 2011.
That impressive claim is fulfilled by reducing its weight by 28% ( 45 grams less ) down to 453 grams or less than 1lb. The iPad Air's depth is also reduced by an impressive 20% down to only 7.5mm. It features a smaller surround bezel which shrinks the size of the iPad Air without impacting on the display screen size.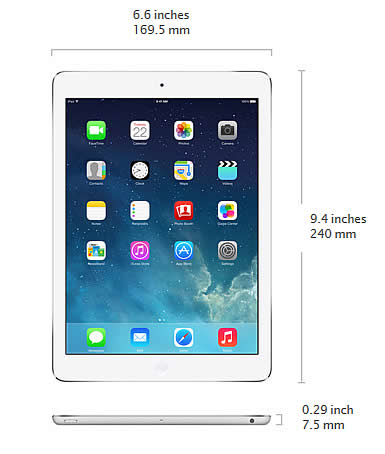 The iPad Air includes both a 64-bit A7 processor and an M7 motion co-processor. This is exactly the same as that used in the Apple iPhone 5S, and Apple say this is 8 times faster and has 72 times improved graphics performance than its predecessor.
The 9.7-inch LED-backlit Multi-Touch display comes with IPS technology, a resolution of 2048 x 1536 which equates to a PPI of 264 pixels per inch and has a fingerprint-resistant oleophobic coating.
The iPad Air comes with a 5 megapiaxel iSight main camera and a HD front-facing camera. It comes with iOS 7, twice the data transfer speed on WiFi via MIMO 802.11n and comes with 4G connectivity support.
It will be supplied in silver and white and space grey and black colour options. An iPad Air with WiFi model £399 for the 16GB model, £479 for the 32GB model, £559 for the 64GB model and £639 for the 128GB model. The Wi-Fi + Cellular will be available starting at £499 for the 16GB model, £579 for the 32GB model, £659 for the 64GB model and £739 for the 128GB model.
Both models will start to arrive for sale on or shortly after the 1st November.
 Useful reading :
Nokia Lumia 2520 Tablet : The First Windows Tablet from Nokia