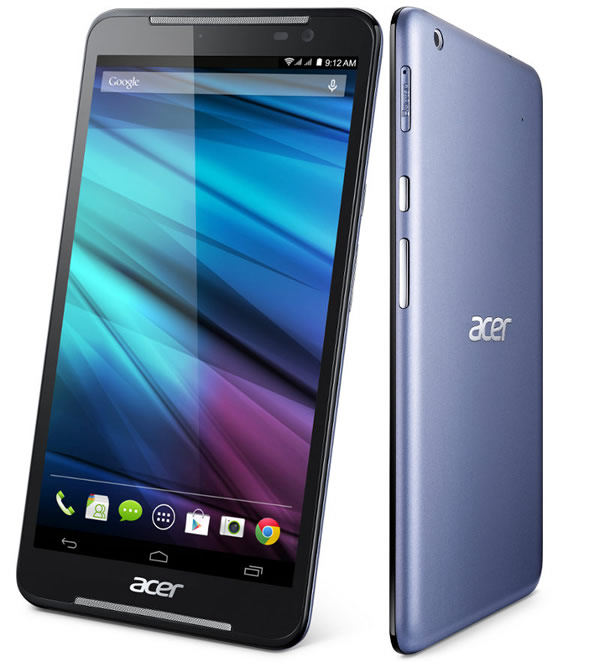 Acer Iconia Talk S : the company's first 4G tablet
Is it a tablet? Is it a phone? Well, it's both, because while at 7 inches the Acer Iconia Talk S is definitely in tablet territory it can also be used to take calls. In fact it even has dual SIM support, but Acer is calling it a tablet so we will too.
Acer's latest not only enables you to stand out in a crowd by conversing on a comically oversized device, it also includes 4G connectivity. This is the first Acer slate with that feature and it supports 4G download speeds of up to 150Mbps and upload speeds of up to 50Mbps.
The tablet has a 1.2GHz quad-core 64-bit Snapdragon 410 processor, 1GB of RAM, a 5 megapixel main camera, a 2 megapixel front facing one and a 3780 mAh battery, so 4G and phone calls aside it's definitely an entry level slate.
The aforementioned 7 inch screen comes in at 1280 x 800, which isn't an amazing resolution, but it is built with Zero Air Gap technology and an anti-fingerprint coating and promises an impressive viewing experience both indoors and out.
It also touts a narrow 5.9mm bezel and comes in at a lightweight 270g. Storage comes in at just 16GB, though there's a microSD card slot with support for cards of up to 128GB and it runs Android 4.4.
The slate, which with its dual-SIM card slot seems mostly aimed at people who travel a lot, is currently only available in Taiwan and comes in at 7990 TWD, which is roughly £164. So hopefully it will be similarly affordable if and when it launches in the UK, but Acer hasn't yet confirmed its global price or availability.