[caption id="attachment_3541" align="aligncenter" width="300"]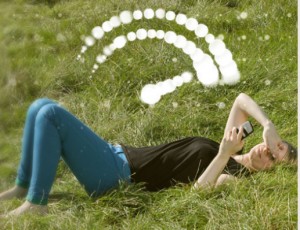 EE's 4G Service is Light Years Ahead of the Competition[/caption]
Right now EE are winning the 4G race by a significant margin. There are a number of reasons for that and it's not purely a case of EE being better than the other networks. Indeed the number one reason for EE's lead is that they were able to leverage some of their existing frequency to launch a 4G network late last year, while everyone else had to wait for the 4G spectrum auction in February before they could even properly start making preparations for a launch.
And so it is that we find ourselves in a situation where EE have almost a year's head start on O2 and Vodafone - both of which plan to finally launch 4G at the end of the month, and an even longer head start over Three - who have yet to announce a firm date for their 4G launch.
That extra time has allowed EE to extend coverage over much of the country, even doubling their 4G speeds in some locations, as well as carrying out an enormous marketing campaign which has ensured that Kevin Bacon may forever be associated with 4GEE.
That's unfortunate for the other networks, but they haven't done much to help themselves either, as both O2 and Vodafone have very conservative roll out plans that suggest much slower expansion than EE managed, when if anything they need be expanding faster in order to catch up.
Ultimately there will come a time when all of the networks have roughly equal 4G coverage, but that's likely to be at least a couple of years away. EE got a free pass in 2013, but 2014 looks set to be their year as well since O2 and Vodafone will be stuck playing catch-up.
We've intentionally neglected to mention Three in that, as they are a bit of a wild card. There's no chance that they'll be able to compete with EE's coverage until at least 2015, but they're the one network that's promising fairly low 4G prices and unlimited data - two things that consumers have been crying out for. That could be enough to pose a threat to EE and allow Three to scoop up a significant market share.
We're less optimistic about O2 and Vodafone's chances in 2014. They're playing EE at their own game, charging high prices for a supposedly premium service. But they don't have EE's coverage and like EE that 'premium service' has capped data limits, leaving consumers little reason to choose O2 or Vodafone over EE other than brand loyalty or wanting to avoid the hassle of switching network. If that's all they have going for them over the competition then they really need to rethink their long term strategy.
One thing's for sure, the way that things stand now EE have little to worry about in the near future and a lack of viable competition, other perhaps than from Three, is bad news for consumers, as EE will have little reason to drop their prices.