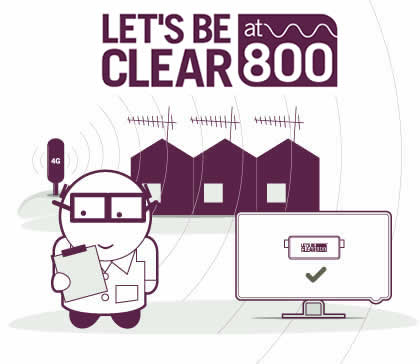 One of the few negative side effects of 4G is that the 800MHz signal used by some networks and previously used by TV services caused interference with Freeview television for some viewers. To counter that at800 was tasked with providing support to any affected viewers and it's been doing that for two years now, seemingly to great effect.
According to at800, nine out of ten viewers who have been given support by the company have rated it as 'excellent', presumably meaning that their signal woes were fixed without further issue.
You might not think many people actually use Freeview, but in fact according to Ben Roome, at800's chief executive officer:  "Freeview continues to be the most used media platform in the UK –ahead of satellite cable and online for TV as well as other types of media such as print and radio. It is a huge part of daily life in 19 million households across the country, with 11 million households relying on it for their TV. We focus on resolving problems as quickly as possible and know from our survey results that customer satisfaction is high."
In the process of assisting with Freeview issues at800 has also found that the number of cases of 4G interference weren't as high as you might have expected either.
Over 15,000 engineer visits to individual households have been made by at800 in the past two years and 4G at 800MHz contributed to the interference in fewer than half of cases.
Instead the problems were most often caused by unnecessary or faulty television signal amplifiers, which in many cases were damaged by water ingress.
So far at800 has issued 1,010,487 free 4G filters to non-communal households, supplied over 2,000 communal aerial system filters to residential blocks containing multiple households and sent 14,858,933 postcards to properties at risk of experiencing Freeview disruption as a result of 4G masts going live in their area.
But its job's not done yet, as the networks still have a lot of rolling out to do of 4G services and Three has announced plans to start using the 800MHz band for 4G, which could cause additional problems for Freeview users, especially as its frequency allocation is the closest to existing Freeview channels.