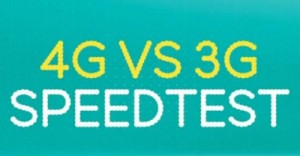 There's no question that 4G is faster than 3G, but as part of their ongoing goal to get as many people signed up to 4GEE as possible before O2, Three and Vodafone launch their services, EE aimed to find out just how much faster in a series of real world tests. Using a Samsung Galaxy S3 the company compared the speed of their 4GEE service with the speed of their 3G service.
In an attempt to make it fair they ran tests on different days and in a variety of locations across the country. First up they compared the time it took to load a YouTube video at the Southbank in London. It took just 2 seconds to load using 4GEE and 9 seconds to load when using 3G. Then at the same location they tested how long it would take to load The Guardian's homepage, with results of 7 seconds over 4GEE and a much slower 30 seconds over 3G. The tests are shown in the video below.
Next they made their way to the Bullring in Birmingham where they tested how long it would take to download Angry Birds Star Wars. It took just 27 seconds to download with 4GEE, but took 2 minutes 57 seconds with 3G. Then they downloaded an album from Deezer (Ellie Goulding's Halcyon if you're wondering), which took a mere 1 minute 19 seconds on 4GEE and 3 minutes 43 seconds on 3G.
Finally they took the test to Piccadilly Station in Manchester and searched for a location on Google Maps then loaded satellite imagery for it. The whole process took just 8 seconds on 4GEE while it took 22 seconds on 3G.
The results are certainly very impressive and highlight just how much faster 4G is than 3G, though they weren't identical across all the tests. The biggest difference was the time it took to download an app in Birmingham, which was roughly six times faster with 4GEE, while finding a location on Google from Manchester was less than three times as fast, but even that's pretty impressive.
Of course, this particular test also needs to be taken with a pinch of salt - after all it was carried out by EE, who benefit from singing 4G's praises, it was also far from comprehensive, took place in areas with good 4G coverage (though admittedly they probably also had good 3G coverage) and may have omitted results that didn't paint 4G in such a flattering light.
In many ways it's little more than marketing, but it's still a fun way to see the tangible benefits of 4G. It seems like it's particularly handy for larger downloads - such as the album and app downloads in the test, where the difference isn't just a matter of seconds but potentially multiple minutes, or even longer if the file is big enough.
For the great swathes of the UK that don't have 4G yet (or for anyone who's not on EE), this won't come as much comfort, but EE's coverage is increasing all the time and it won't be long before Three, O2 and Vodafone all get in on the act too with 4G services of their own.