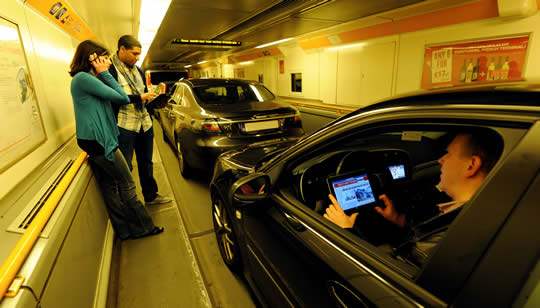 Back in January we reported that EE planned to bring 4G to the Channel Tunnel by summer and the network just about managed it, as it's announced that its 4G service has been live there since the 24th of September.
The tunnel is 75 metres underground and passengers travel at speeds of up to 99 MPH during the half hour journey between England and France, so it's not somewhere you'd typically expect to find mobile data, yet it seems to be working smoothly, as already over 25,000 EE customers have connected while making the trip.
EE CTO Fotis Karonis said: "Our 4G rollout has changed the mobile landscape in the UK, and we're very proud to have been the first UK operator to put superfast data 75 metres underground in the Channel Tunnel. We've been watching the performance of the network for the last two months and we've now delivered a great data experience to more than 25,000 customers, and made a real difference to people commuting and going on holiday."
Peak 4G download speeds of 57Mbps have been delivered, with an average of 13.5Mbps, while in total so far 282GB of data have been carried in the Channel Tunnel, which is not bad at all given it's only been live for two months.
Of course being just a half an hour journey most people could probably live without data, but it should help keep kids entertained and if you're making the outward journey to France it could also be the last time for a while that you get data without being charged for roaming.