[caption id="attachment_2830" align="aligncenter" width="199"]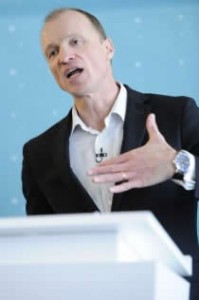 Olaf Swantee, Chief Executive Officer, EE[/caption]
So far EE are showing no sign of slowing down in their 4G rollout, in fact they've even found the time to install 4G in a Glastonbury tractor while still focussing on bringing it to the rest of the United Kingdom.
EE's latest announcement along those lines is that they've brought 4G to eleven more towns across the UK. Those towns are Aldershot, Basildon, Basingstoke, Bracknell, Hitchin, Horsham, Leatherhead, Letchworth, Stevenage, Warrington and Weston-super-Mare. With the exception of Warrington and Weston-super-Mare those are all clustered around the South East of England, so it's good news for anyone who lives in that area.
With these latest eleven towns, EE now provides superfast 4G mobile coverage to both businesses and consumers in eighty five towns and cities across the UK. That amounts to the homes and businesses of more than 55% of the UK population, all of which has been achieved in the eight months since EE launched their 4G service late last year.
Olaf Swantee, Chief Executive Officer, EE, said:
"Today's launch sees us continue to extend the reach of superfast 4G mobile to more consumers and businesses across the UK, from Warrington to Weston-super-Mare. With double-speed 4G launching this summer, as well as shared 4GEE plans and Pay-As-You-Go 4G Mobile Broadband, we continue to innovate and enable the best possible digital experience for our customers."
EE's aim is to bring 4G to more than 70% of the UK population by the end of 2013 and 98% of the UK population by the end of 2014. Those are both targets which EE claim to be on track for meeting.
If you're wondering whether 4G is available in your area yet here's the full list of towns and cities that currently have 4GEE coverage:
Aldershot, Amersham, Ashton-under-Lyne, Aylesbury, Barnsley, Basildon, Basingstoke, Belfast, Berkhamsted, Billericay, Bingley, Birmingham, Blackpool, Bolton, Bracknell, Bradford , Brentwood, Bristol, Cardiff, Chatham, Chelmsford, Chorley, Coventry, Derby, Dewsbury, Doncaster, Dudley, Edinburgh, Gillingham, Glasgow, Harpenden, Hemel Hempstead, High Wycombe, Hitchin, Horsham, Huddersfield, Hull, Leatherhead, Leeds, Leicester, Letchworth, Lichfield, Liverpool, London, Loughborough, Luton, Lytham St Annes, Maidenhead, Manchester, Marlow, Merthyr Tydfil, Newbury, Newcastle, Newport, Nottingham, Oldham, Oxford, Pontefract, Preston, Reading, Rochester, Rotherham, Runcorn, Sale, Sheffield, Shipley, Slough, Southampton, Southend-on-Sea, Stevenage, St Albans, Stafford, Stockport, Sunderland, Sutton Coldfield, Telford, Thame, Walsall, Warrington, Watford, Weston-super-Mare, West Bromwich, Wigan, Windsor and Wolverhampton.
On top of that EE is already working on doubling the speed of 4G in certain locations and those speed increases should be seen in a matter of weeks. If you're considering jumping on board there are a number of 4G-ready handsets available from EE, including the iPhone 5, BlackBerry Q5, Samsung Galaxy S4, Samsung Galaxy S4 Mini, Samsung Galaxy Note 2, Samsung Galaxy S3, BlackBerry Q10, BlackBerry Z10, Sony Xperia SP, Sony Xperia Z, HTC One, HTC One SV, HTC One XL, Nokia Lumia 920, Nokia Lumia 820 and Huawei Ascend P1. However it also shouldn't be long until the other networks launch their 4G services, giving you even more choice.