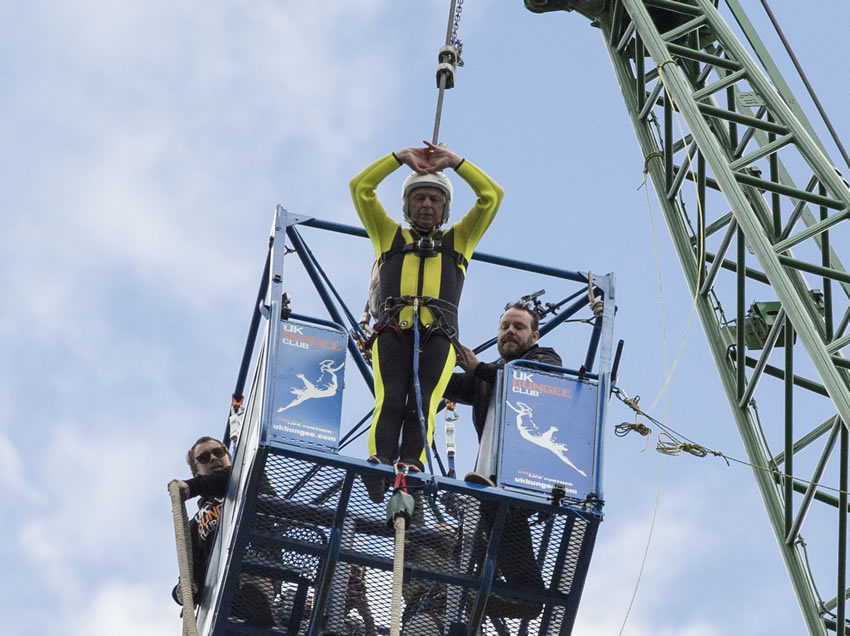 The 4GEE Action Cam is all about filming and live streaming things like extreme sports, where a traditional video camera would be too big or too fragile to cut it and it doesn't get much more extreme than a 465ft bungee jump ending with a full body submersion into water.
That's exactly what it's been put through and remarkably the leap, which is a UK and possibly world record, was carried out by a 73-year-old-man.
Ray Woodcock, the daredevil in question, strapped the waterproof 4GEE Action Cam to his chest and headed to Chepstow Quarry, where he leapt from a special 500ft crane into the deep water far below.
Checkout the deals on the 4GEE Action Cam here.
The 4GEE Action Cam ensured the footage was live streamed to his family in Essex, withstanding both the drop and the submersion into water.
Ray said: "Today was very special because my family could watch, could feel, could see what I was doing – EE's new technology is amazing. When I was standing on the edge, with nothing between me and nearly 500ft - for the kids to have seen that at home must have blown their minds."
Ray is no stranger to danger, having previously carried out a 380ft bungee jump, as well as having climbed Mount Kilimanjaro, trekked through Death Valley and driven a group of huskies 250km across the Arctic, but this bungee jump is arguably his most impressive feat yet.
This won't likely be his last extreme adventure either, as he added that "Today has been the dream for the last three years - I've lived every day for day, imagined it, gone through it - and now I've achieved it. It feels fantastic, I'm still riding on a cloud - or a bungee! At 73 there's lots of things you can't do, but the record for the oldest jumper is over 100, so at my age I'm a spring chicken. A lot of people at my age, they've given up - but you're never too old to achieve new things."
With the 4GEE Action Cam, which is the only action camera on the market to support 4G live streaming, he'll be able to live stream all his future endeavours too, so his family and friends need never miss a moment and can be with him in spirit even if they're no there in person.
Checkout the deals on the 4GEE Action Cam here.