[caption id="attachment_271" align="aligncenter" width="300"]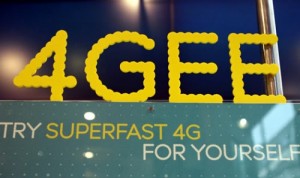 How does the cost of 4G compare to 3G.[/caption]
EE ( Everything Everywhere – which owns Orange and T-Mobile ) has launched 4G in 11 cities : Bristol, Birmingham, Cardiff, Edinburgh, Glasgow, Leeds, Liverpool, London, Manchester, Sheffield and Southampton. By the end of the year, 4G will also have launched in Belfast, Derby, Hull, Newcastle and Nottingham. Of course, those lucky enough to live in those cities could join the 4G bandwagon today and experience download speeds of up to five times faster than 3G.
EE has put together a fine collection of 4G phones, 4G tablets and 4G devices as follows : these include the Apple iPhone 5, Samsung Galaxy S3 LTE, HTC One XL , Huawei Ascend P1 LTE, Samsung Galaxy Note II LTE, Huawei E589 Mobile Wi-Fi and the Huawei E392 Mobile Broadband stick. Coming to 4GEE in November will be the Nokia Lumia 920 LTE, Nokia Lumia 820 LTE , Apple iPad 4 and the Apple iPad mini.
The decision as to whether to join the 4G bandwagon today or hang on some, is likely to be dependent upon where you live, when your current phone contract is scheduled to finish and the extra cost of having a 4G contract compared to a 3G contract.
The only variable that can affect our decision in all cases is pricing, so 4G.co.uk spent a bit of time looking at the cost of a 4G phone deal compared to a 3G phone deal. The comparisons below are all based on a 2 year contract and we have ignored any upfront cost to buy the phone.
The following summary looks at the cost of a 4G contract against the cost of a 3G contract.
| | | | | | | | |
| --- | --- | --- | --- | --- | --- | --- | --- |
| Operator | 4G or 3G Network | Unlimited Texts and Calls | 500MB | 1GB | 3GB | 8GB | Unlimited Data |
| EE | 4G | Yes | £36 | £41 | £46 | £56 | NO |
| Vodafone | 3G | Yes | | £29 | £42 | | NO |
| Three | 3G | 5000 texts 2000 mins | | | | | Yes – from £25 |
| O2 | 3G | Yes | | £26 | £54 | | NO |
| | | | | | | | |
Looking at the 4G versus 3G contract pricing above, EE's 4G contract pricing appears to be very competitive and we don't see any issue at all taking out a 4G phone contract based on the actual contract prices. The plus factor is the five times faster download speed offered by 4G over 3G.
However the real issue with the pricing offered by EE is the cost of mobile data. The entry plan costing £36 a month offers just 500 Megabytes of data which quite frankly is totally inadequate. In fact, if you download a HD video lasting just four minutes – whoosh – your whole months allowance has been gobbled up. The only saviour is that EE have included free unlimited Wi-Fi access to use otherwise you will need to buy extra 4G data allowance. These start at £3 for 50MB £20 for 4GB.
4G.co.uk see the problem like this. 4G download speeds will encourage us all to download much more mobile data as it will be so much easier and quicker to download ( e.g. a HD Movie, huge email attachments and high definition photos etc ). We think the main people who should join the 4G bandwagon this year are the early adopters and the heavy data users - who already pay higher data prices on 3G ( but also live in the one of the launch cities ).
The rest of us will be better advised to wait some time and take a look at a 4G phone sometime in 2013 when other 4G operators launch their own networks and throw in some pricing competition to the mix.