[caption id="attachment_3783" align="aligncenter" width="675"]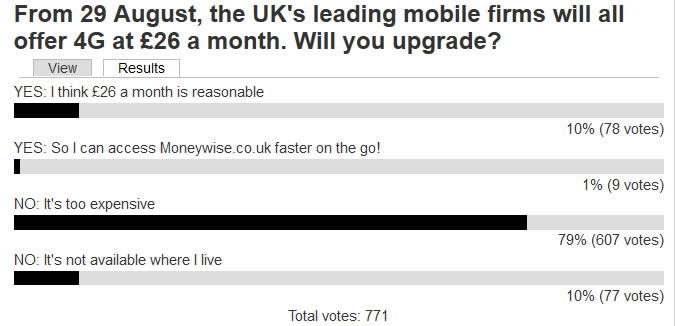 Latest poll results above from Moneywise shows 4G as being too expensive.
[/caption]
4G Pricing Hits the Headlines Again.
4G is getting a fair bit of coverage in the papers and on TV. This will peak tomorrow as both O2 and Vodafone launch their 4G mobile networks. Of course, they will join EE who launched its own 4G mobile network back in October, 2012.
There are three main issues that consumers currently take into consideration when deciding to take out a 4G mobile phone contract or not : price, coverage and uncertainty about the advantages of the new 4G technology.
However, the absolute stumbling block to upgrading to 4G must be cost. This was outlined in an Ofcom report from August 2013 which showed that "46% of people surveyed thought that the data charges were too high and 37% were worried about the cost of upgrading to a 4G-ready handset".
You may like to read "Ofcom Reports Low Demand for 4G" for full details.
On top of the Ofcom findings comes results from a poll survey conducted by Moneywise. Of course, Moneywise's readers would be expected to be price conscious people, but 79% of 750 readers surveyed said they would not currently upgrade to a 4G phone as it was too expensive. Interestingly, only 10% of those surveyed said they would not upgrade due to a lack of 4G coverage in their area.
The price entry point for a new 4G mobile phone contract is around £26 a month with a one off payment of £50 for the phone from EE. Vodafone and O2 launch 4G tomorrow with a similar pricing structure.
You may like to read "What Needs To Be Done To Convert Consumers To 4G"
4G is in its infancy in the UK and we are recovering from the recession so don't expect everyone to be leaping forward to take out a 4G mobile contract at this time. In fact, we foresee the same results as above for some considerable time – until the second quarter of 2014. By this time, we would expect O2 and Vodafone to have caught up to EE's impressive 4G coverage of 100 towns and cities.
One 4G mobile operator hoping to buck this trend is Three. Three have decided not to increase their prices for their 4G mobile service and will offer 4G at exactly the same price as their current offerings on 3G and Ultrafast. However, as the smallest of the UK's mobile operators they cannot be expected to create a great dent in converting consumers earlier to 4G than the polls above suggest.