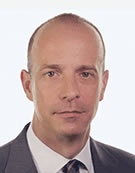 4G mobile will become a reality later this year as EE ( Everything Everywhere ) gear up to launch its 4G LTE mobile network in 16 cities prior to Xmas.
A new angle on the forthcoming arrival of 4G mobile in the UK has been given by the MD of one of Europe's leading managed service providers.
Michel Robert ( above ) MD of Claranet believes that the introduction of 4G in the UK later this year will bring more initial benefits to Business users and less to consumers. He sees 4G as an initial curious novelty for consumers but expects business users to see more potential benefits early on.
To-date all the hype and media coverage has focused on the faster 4G download speeds, up to five times faster than 3G, that 4G LTE will bring.
However, the reality is that in the early days of the 4G launch, the actual 4G network coverage will only be in 16 cities and is likely to be patchy. Then when a consumer leaves a city where 4G is launched and enters a non 4G network area, the 4G smartphone needs to switch between 4G and 3G signals and will switch many times in patchy coverage areas. This, in addition to the increased power consumption of a 4G data intensive smartphone will mean that the smartphone manufacturers' battery time ( e.g. talk-time ) will not be achieved and in some cases will be reduced by some considerable amount.
Until the above is resolved, Michel Robert says "4G will be most relevant to businesses, not consumers. Businesses will be able to use a 4G enabled router to access cheap, fast and effective backup connectivity in the event of any disruption to their main network. Rather than invest in redundant physical networks, businesses will instead be able to connect via a superfast 4G mobile connection. The implications for businesses could be immediate, by enabling them to switch seamlessly to a service delivered over the mobile spectrum at a fraction of the cost of a redundant cable connection, making it especially attractive to smaller businesses."
Of course, 4G remember well the time of the launch of 3G in the UK and we remember the exact same problem with 3G smartphones and the exact same battery drainage issues when switching from 3G to 2G and back again. We tend to support the above and will try to discover if any tests have been conducted regarding the drain on phone batteries when switching between different networks and standards.