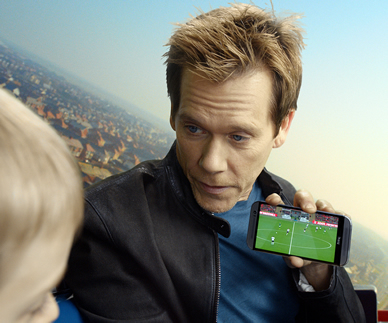 Watching football via 4G on a roller coaster - you cannot be serious! can you?
As the FIFA World Cup grows ever nearer, EE have begun pushing its association with the England football team. The latest concoction to promote 4G can be viewed in a video featuring Kevin Bacon watching football at the top of Blackpool's Pepsi Max Big One roller coaster.
The timing for a commercial like this is spot on and if you really can get 4G at the top of the roller coaster its pretty cool, but make sure you have phone insurance before you try it yourself.
The really interesting thing that we spotted from the video is that EE state they are "The Official Mobile Network of the England Team.
Back in February this year EE confirmed it was the inaugural lead partner for Wembley Stadium and a few weeks later EE launched its Wembley Stadium app. So its not a total surprise to learn EE are the official mobile network of the England team, but this is the first we've heard of it.
The exact deals of what this entails have not been released but we will dig deeper and post our findings here.
Spencer McHugh, Director of Brand at EE, said: "EE's 4G network now covers a massive 70% of the UK population, so our customers can enjoy a far superior internet experience on the go in more places than ever before – which is great news, especially in a tournament year when quality streaming will be in high demand. Our recently announced lead partnership with Wembley Stadium also means we are an official supplier to The FA Cup, and the England team's official mobile network.  Kevin Bacon is back on our screens to bring this all to life ahead of what should be a fantastic summer of sport."
Meanwhile, regarding the video, which can be seen below, we think it's pretty damn cool and if 4G actually works on the roller coaster that's a Big One in itself.
Looking to find out more about EE's 4G coverage: