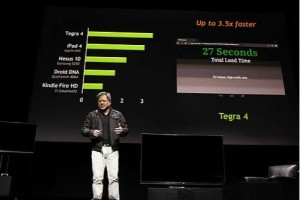 The world's fastest mobile processor has been announced and can be used on smartphones, tablets and PCs. Nvidia demonstrated its new Tegra 4 mobile processor in a Google Nexus 7 at today's CES show in Las Vegas.
The new Tegra 4 mobile processor will be used on 4G phones and 4G tablets as it comes with 4G LTE compatibility and features a quad core Cortex A-15 CPU. The Tegra 4 processor will on its own increase mobile web browsing speed by around 2.5 times and in addition it improves application performance. The Tegra 4 is 40% smaller than conventional modems.
The Tegra 3 mobile processor is currently used in the HTC One X , HTC One X+ and the LG Optimus 4X. As yet, Nvidia has not confirmed that any 4G phone manufacturers have placed orders for the Tegra 4 but 4G.co.uk would expect HTC and LG to offer some 4G phones and / or 4G tablets incorporating the Tegra 4 mobile processor in the future.
The Tegra 4 processor is superior to the Tegra 3 in that it uses 45% less power, uses PRISM 2 Display technology, gives graphics performance which is 6 times better ( via the GeForce GPU with 72 custom cores ), offers improved gaming performance and provides support for higher display screen resolutions.
The Tegra 4 also comes with "Computational Photography Architecture" which automatically generates High-Dynamic Range (HDR) photos and facilitates photos to be taken 10 times faster than before.
This all sounds good for 4G phones and tablets and as soon as we hear of any devices coming with the Tegra 4 mobile processor we will be sure to post it here.