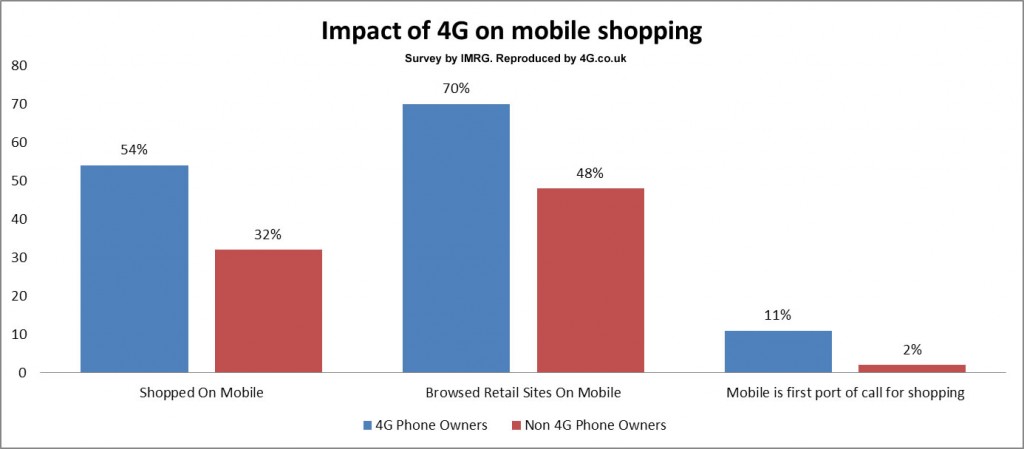 New research clearly shows that people with 4G phones are much more likely to shop online than their 3G counterparts.
The survey, undertaken by eDigitalResearch and IMRG, involved 2000 consumers of which 89% had heard of 4G and 19% owned a 4G phone.
The key findings of the survey were revealed as:
54% of 4G phone users have shopped on-line compared to 32% of non-4G phone users.
70% of 4G phone users have browsed retail websites compared to 48% of non-4G phone users.
11% of 4G phone users said mobile sites or apps are their first port of call when they shop and browse compared to 2% for non-4G phone users.
Derek Eccleston, Commercial Director at eDigitalResearch, comments, "As a nation, we were relatively slow to adopt 4G compared to other countries. However, now it's here, these results demonstrate that the technology is likely to have a real impact on our shopping and browsing habits as UK networks charge ahead with their planned roll out to more locations and more users – mobile is likely to become even more pivotal for retailers with more of us shopping and browsing from our smartphones, both inside the home and out and about".
Kevin Thomas Director at 4G.co.uk commented "We're not surprised by the results of the survey because 4G is around 7 times faster than 3G which significantly improves browsing speeds. Another major factor is that newer smartphones have bigger displays delivering a significantly improved browsing experience".
"On-line retailers themselves are also getting smarter by building websites that are optimized, or built from the ground up, for modern smartphones and tablets. We expect mobile to continue to become an ever increasing force in internet shopping".
Looking to find out more about 4G?