[caption id="attachment_5544" align="aligncenter" width="644"]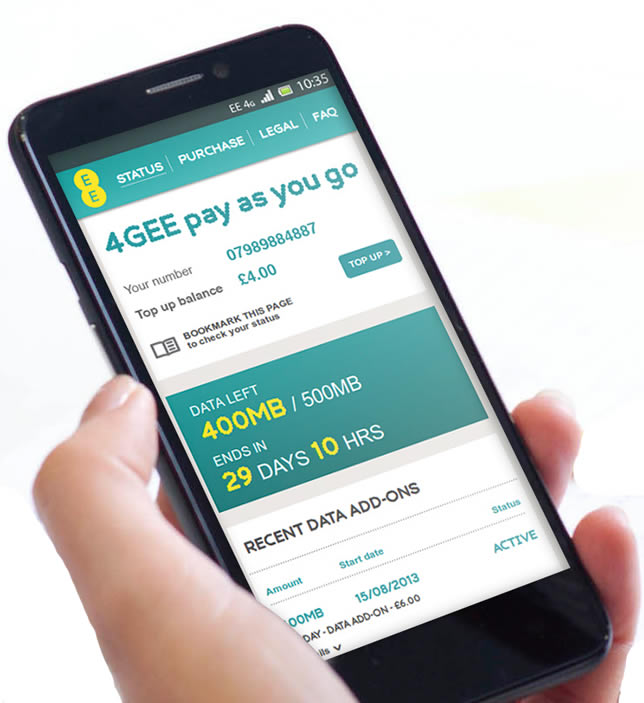 4G Pay As You Go Arrives in the UK with a Bang
[/caption]
EE launched its 4G mobile network back in October, 2012 and now has 4G coverage in over 120 towns and cities. They have over 1 million customers subscribing to 4G but up until now the only option was to take out, what many considered to be, an expensive monthly contract.
However, in a move that will shake up the 4G mobile market, EE has become the first to offer 4G on Pay As You Go. Strangely, we here at 4G, always believed EE would shake-up its overpriced tariffs once Vodafone and O2 had launched 4G but this is a lot more aggressive from EE than we thought.
The pricing from EE for Pay As You Go with 4G will allow EE to target lower spending customers and seems to us to that the losers may well be Three, Vodafone and O2. In-fact, Three may be the biggest loser as they don't have a 4G network "live" and with such aggressive pricing from EE we expect to see Three PAYG customers considering a move to EE with its impressive 4G networks speeds and coverage.
Useful reading : EE 4G vs Vodafone 4G vs O2 4G vs Three 4G
The really good news is that exactly the same 4G smartphones that EE offer on a monthly contract will be available on PAYG. The lowest priced handset is the Alcatel One Touch Idol S ( from £130 ).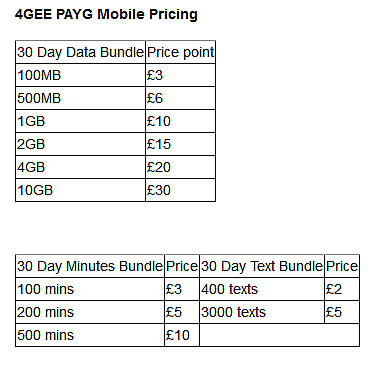 The PAYG pricing structure is based on a 30 day contract as shown above. The tariffs are divided into three categories and you can pick and mix as you like. The cheapest PAYG deal is for 400 texts which costs just £2. Meanwhile, 100 minutes cost £3 while 100MB of data costs £3.
The cheapest combined 4G PAYG 30 day package is for 400 texts, 100 mins, and 100MB of 4G mobile data at £8 per month. This will be on EE's standard 4G network ( five times faster than 3G ). Those wanting to use EE's "double speed 4G" need to take out a 4G data bundle of 2GB and above. They then benefit from speeds of 10 times that of a standard 3G network.
Useful reading : What is Double Speed 4G?
The 4G PAYG tariffs will go live on 30th October.