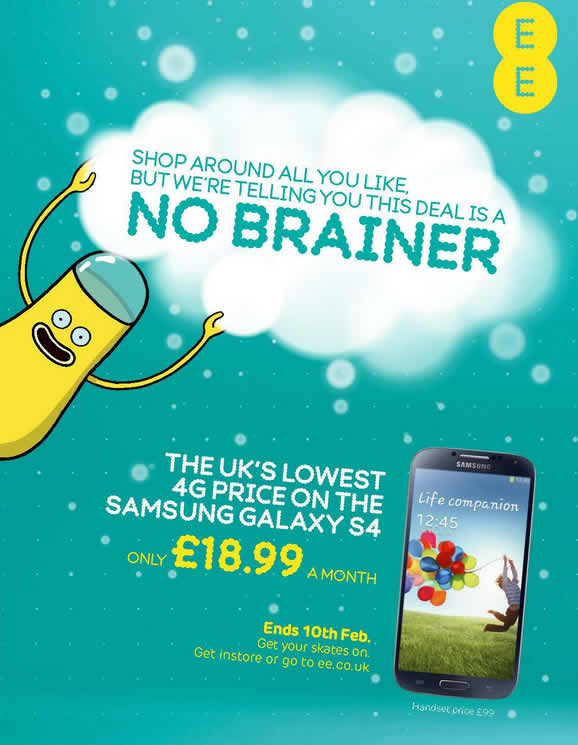 EE launch its "No Brainer" campaign on 4G mobile phones.
EE have announced a new range of fantastic value deals on 4G mobile phones and home broadband which they are calling 'No Brainer' deals.
The first 'No Brainer' deal is launched today and sees the Samsung Galaxy S4 on offer, for a limited time period, with the UK's lowest price of just £18.99 a month which includes 1000 minutes, unlimited texts and 500mb of 4G mobile data. There is an upfront cost of £99 for the Galaxy S4. Previously you would have had to pay £319.99 upfront for the smartphone.
You need to be quick though as the offers ends on the 10th February.
Checkout the no brainer deal on the Samsung Galaxy S4 now
EE say the 'No Brainer' deals are geared to provide fantastic, market-leading offers with something for everyone. They will be changed on a regular basis and will form part of EE's multi-million brand focus campaign for 2014. It will be promoted via TV, papers, billboards, TV and Radio campaigns.
4G undertook its Samsung Galaxy S4 review and concluded "The Samsung Galaxy S4 is a 4G handset with a huge amount of power and performance packed into a comparatively small chassis".
This seems to be a great idea to us here at 4G and with EE offering 4G coverage in 160 towns and cities you would also be taking out a 4G contract with the 4G market leader.
We decided to check out EE's claim and found that the Galaxy S4 is available on O2 4G for £17 a month, but you'll have to pay a whopping £579.99 for the handset. Meanwhile, Vodafone's cheapest plan costs £38 a month, on Tesco Mobile you're looking at £32.50 a month and Three's lowest priced plan costs £33 a month (£49 upfront).
So if your looking for a Samsung Galaxy S4 then do as EE say "get your skates on" and get one before the 10th February.