[caption id="attachment_230" align="aligncenter" width="300"]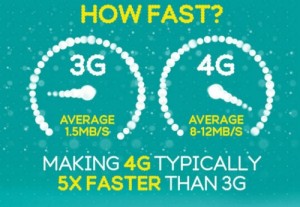 How fast is 4G compared to 3G ?[/caption]
EE ( Everything Everywhere which owns Orange and T-Mobile ) will launch the UK's first 4G LTE network in a few days, on the 30th October. At the same time, EE will launch 5 4G enabled phones ( the iPhone 5, the Samsung Galaxy S3 LTE, the HTC One XL, the Huawei Ascend P1 and the Samsung Galaxy Note II LTE ). Nokia fans will be pleased to hear that the 4G enabled Nokia Lumia 920 and 820 will be ready to buy before Xmas.
At launch, 4G will be available in ten cities and in these 16 cities by Xmas : London, Bristol, Cardiff, Birmingham, Leeds, Sheffield,Manchester, Liverpool, Glasgow, Edinburgh, Newcastle, Belfast, Southampton, Hull, Nottingham and Derby.
The brand name for the new 4G service is called 4GEE and will only be available to Pay Monthly customers. The above image clearly shows the speed advantage of 4G over 3G which is typically five times faster.
The 4G download speed will reach a theoretical maximum of 40 Megabytes per second and typically 8-12 Megabytes per second compared to an average 1.5 Megabytes per second for the average 3G speed. The 4G upload speed will reach a theoretical maximum of 15 Megabytes and typically 5-6 Megabytes per second.
To summarise, this means a 2 Gigabyte HD movie would download to a 4G enabled phone in around 3 minutes and this is what we here at 4G.co.uk are waiting for.
EE are also launching Fibre Broadband at the same time which will initially be available to 11 million homes and EE claim this will be ten times faster than the average speed of standard broadband ( ADSL ). EE are promoting their Fibre Broadband with download speeds of up to 76Mb/sec instead as opposed to 14Mb/sec on current UK broadband averages.