[caption id="attachment_225" align="aligncenter" width="300"]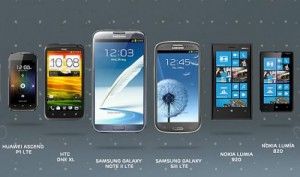 New research provides an insight into 4G data pricing.[/caption]
EE ( Everything Everywhere which owns Orange and T-Mobile ) has announced that it will launch its 4G network on the 30th October this year. Up to now we have heard that EE will launch its 4G network in initially 10 cities at that time and in another 6 cities before Xmas this year. EE aim to have 4G services available to 70% of the UK population by Xmas 2012 and have 98% coverage to the UK population by 2014.
We also know which "4G Ready" phones" will be available and when. At initial launch the 4G phones that can be bought are the iPhone 5, the Samsung Galaxy S3 LTE, the HTC One XL, the Huawei Ascend P1 and the Samsung Galaxy Note II LTE. In November, the Nokia Lumia 920 and 820 will also be added to the portfolio of 4G phones.
Looking at 4G phone pricing nothing has been mentioned at all by EE to-date. However, looking at recent research from ABI Research it seems that 4G data pricing can be up to 20% higher than 3G data pricing. The research comes from experiences in countries where 4G is established such as South Korea, Norway, Hong Kong and the US.
The research also shows that over time 4G data pricing comes down and any data allowances go up as competition grows as other 4G networks in the same countries compete for business as opposed to the situation where one mobile operator has the benefit of an early 4G launch over its competitors.
"4G technology has given operators, not just greater download speeds, but also greater capacity. Therefore there is a degree of price elasticity," added Research associate Marina Lu. "As 4G devices come down in price, operators will be keen to increase 4G market-share. Cutting tariffs, or boosting data quotas, will be tempting but they need to make sure they achieve greater overall returns."