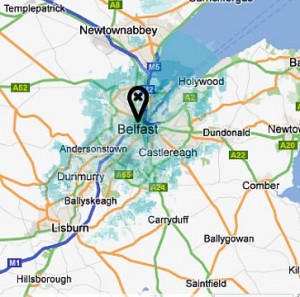 EE ( which owns Orange and T-Mobile ) has launched 4G in Belfast and is also investing £25 million in upgrading its 2G and 3G networks. The upgrade of the 3G network ( to make it faster ) will be available to 94% of the UK population by April 2013.
Meanwhile, EE's 4G network in Belfast was switched on during the Christmas period and will offer 4G download speeds which are around five times faster than 3G. Belfast is the first town or City to have 4G in Northern Ireland. The 4G coverage in and around Belfast can be seen above or by visiting the EE 4G coverage checker.
David Salam, Director of Network Strategy at EE, said: "This network upgrade programme is essential for customers across Northern Ireland, and will enable one of the fastest, most efficient mobile networks in Europe. We're delighted to be able to deliver this network, and apologise for any inconvenience caused by any temporary losses of service during this exciting network upgrade programme."
In total, only 18 cities have so far benefited from 4G mobile services in England, Scotland and Northern Ireland during 2012, while another 17 towns and cities will get 4G by the end of March 2013. The next wave of towns and cities to get 4G has yet to be announced by EE but until April 2013, Belfast will be the only place where 4G will has been launched in Northern Ireland.