[caption id="attachment_217" align="aligncenter" width="300"]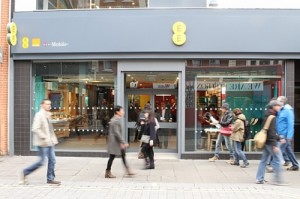 4G launched in the UK by EE as promised.[/caption]
As promised EE ( Everything Everywhere – which owns Orange and T-Mobile ) has launched its 4G network and 4G phones today. EE has also re-branded its 700 Orange and T-Mobile stores into EE branded stores as can be seen in the photos above and below.
Customers of EE who sign up for a 4G phone contract will benefit from download speeds of up to five times faster than 3G can offer.
EE intended to launch 4G today in 10 cities but have managed to launch in 11 cities today. These are Bristol, Birmingham, Cardiff, Edinburgh, Glasgow, Leeds, Liverpool, London, Manchester, Sheffield and Southampton. EE are rolling out 4G across the country at the rate of 2,000 square miles every month. EE say that 98% of the population will be able to get 4G by the end of 2014. Another fact is that from launch an additional 2 million people will get 4G in their area every month – this equates to the quickest mobile network roll-out in history.
Before the end of the year 4G will be available in 16 cities across the UK – the additions to the 11 cities above are : Belfast, Derby, Hull, Newcastle and Nottingham.
The following 4G phones, tablets and devices are available on the following dates :
30th October
Apple iPhone 5, Samsung Galaxy S3 LTE, HTC One XL , Huawei Ascend P1 LTE, Samsung Galaxy Note II LTE, Huawei E589 Mobile Wi-Fi and the Huawei E392 Mobile Broadband stick.
November 2012
Nokia Lumia 920 LTE, Nokia Lumia 820 LTE , Apple iPad 4 and the Apple iPad mini.
Olaf Swantee, CEO at EE, said: "Today is a landmark day for our company, the UK mobile industry and, most importantly, the country's businesses and consumers.
"But this is just the start as our 4G network will continue to grow stronger and wider by the day. We're investing £1.5 billion in our network to be the first company to offer mobile 4G in the UK, alongside the biggest 3G network. Combined with our Fibre Broadband and revolutionary service model we have a pioneering and unique offer to customers across the UK – super-fast speeds in the home, super-fast speeds on the move and expert service on nearly every high street in Britain."