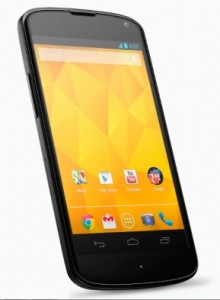 The Google Nexus 4 which is currently on sale in the UK with Google, O2 and Three has been the subject of a very interesting strip-down by iFixit. The Google Nexus 4 is an Android 4.2 ( Jelly Bean ) quad core smartphone manufactured by LG and costs around £239.
The Google Nexus 4 is a 3G smartphone that is compatible with O2's and Three's 3G mobile networks running at standard 3G speeds – not ultra-fast DC-HSDPA which is the fastest of the 3G mobile network variants.
During iFixit's strip-down of the Google Nexus 4, the company discovered that the device came with a 4G LTE processor chip that could work with 4G LTE here in the UK. The secret 4G chip was confirmed as the Qualcomm WTR1605L and is already used in some 4G enabled phones.
We need to say now that the Google Nexus 4 will never work on 4G as it doesn't have the other 4G kit on-board to make it "4G Ready" i.e. a 4G signal amplifier etc. However, we doubt LG and Google would fit an expensive 4G chip which is never used unless there was a reason.
The only reason we here at 4G.co.uk see to fit a redundant 4G chip into a 3G phone is that the 4G version is coming soon. Fitting the 4G chip now may of saved money in the long term by avoiding expensive manufacturing set up costs at a later time. The 3G version of the Google Nexus 4 is competitively priced and a 4G version will obviously cost more.  We expect to see a 4G version of the Google Nexus 4 coming to UK in the next 3 months and if this happens it will be sold by EE as a "4G Ready" Google Nexus 4 as they are the only 4G operator in the UK at the current time.