[caption id="attachment_194" align="aligncenter" width="250"]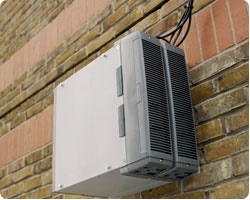 4G network tests in Chicago have seen a new record set at 1.6 Gbps[/caption]
4G network tests in Chicago have seen a new record set at 1.6 Gbps download speed from a 4G wireless network. The tests were conducted by Nokia Siemens Networks ( NSN ) using a TD-LTE ( Time Division ) network similar to those already launched in China, India, Russia and the Middle East.
Of course the new record 4G download speed is achieved under ideal laboratory network conditions whereby it serves a few trialists as opposed to a fully populated customer base being served by the network. A download speed of 1.6Gbps would mean that a HD movie could be downloaded onto a 4G phone in 24 seconds and the real good news is that you could also upload 1.7GB of data at the same time as downloading the movie.
NSN used its Flexi Multiradio 10 Base Station ( photo above ) as both a receiver and transmitter for the downlink and uplink data connections via 4G mobile broadband. The company has broken it's own 4G download speed record five times in the last six months. It is usual on 4G LTE networks to split the uplink and downlink between two different frequency channels but on TD-LTE uploads and downloads split time on the same airwaves.
"We have been pushing the limits in 4G technology, and this time we have done so with 1.6 Gbps data throughput and increased uplink capacity. We are proud to be enabling the commercial readiness for LTE-Advanced and beyond," said Tommi Uitto, head of mobile broadband value creation management at Nokia Siemens Networks. "Users want to be able to upload and download huge files, which underscores the need for operators to drastically increase data throughput and capacity in their mobile networks."
We here at 4G.co.uk think its great that 4G network manufacturers are making such progress all the time with 4G download speeds and although this won't directly benefit our 4G LTE download speeds here in the UK we are sure the 4G LTE network manufacturers who design our UK networks will take note of whats being achieved by NSN and respond with faster 4G LTE network speeds, improvements and software upgrades accordingly.