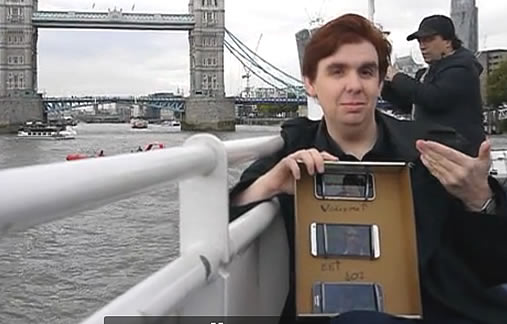 4G is here for O2, EE and Vodafone customers in select towns and cities across the UK and unsurprisingly London seems the best served of the lot.
But London is a big place and even within the centre there can be huge differences in speeds depending on where you are. To test just how good 4G really is in London, Doctor Digital set out on a cruise of the river Thames, starting at Westminster and finishing out in Greenwich. Three phones came along for the ride, one with Vodafone's 4G, one with O2's 4G and one with EE's 4G.
The test didn't aim to establish exact speeds. Instead it tested whether it was possible to stream The Great British Bakeoff the entire way. It turns out that it was possible and that it didn't even stutter on any of the networks.
Doctor Digital is the first to point out that this wasn't the most scientific of tests, but it shows that in London at any rate 4G data speeds seem consistently quite good even if the exact speed varies depending on network and location. A video documents the testing and can be viewed below.
RootMetrics recent and rather more scientific tests in London back this up as we reported last week, with all the networks averaging 4G download speeds of at least 20.8Mbps in London, while EE managed a whopping 29.6Mbps on average. EE's lead is also unsurprising, since EE has upgraded its London sites to 'double speed', though in practice on average it's less than a third faster than either O2, which managed an average of 23.3Mbps, or Vodafone which managed 20.8Mbps.
EE's double speed claims seem more valid for uploads, where the network averages 23.7Mbps in London, while O2 manages 12.6Mbps and Vodafone averages 11.3Mbps.
Still, whichever of those three networks you're on, if you're in London then 4G really should be all it's cracked up to be.
Useful articles to read about 4G in London :
Vodafone's 4G Launch Coverage in London Examined
O2's 4G Network Put Through Its Paces in London
Vodafone 4G Shown In Action : Great If You Live in London
 If you like
this free article by us please give us a Google +1 or a Facebook Like please.