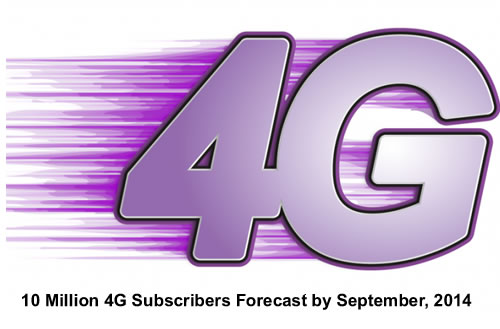 A new survey seems to mirror what we are seeing with current 4G subscriber levels and that is that they are escalating at an ever increasing pace.
EE, the only 4G mobile operator to have reported its 4G subscriber take up, currently has over 1 million 4G subscribers. It took EE 8 months to reach 500,000 subscribers and hit 1 million 3 months later.
The new survey results from research company Deloitte and reported by The Telegraph forecasts that around 10 million people plan to upgrade or take out a 4G contract in the next 12 months.
This seems to tie in with our thoughts and the rapid increase that EE are experiencing at this time. Of course, the research only counted those people who are planning to take out a 4G contract and didn't mention whether these included both business users and consumers, but none the less, it begs the question which of the 4G mobile operators will benefit the most.
Here at 4G, we expect to see EE come out on top and increase its 4G subscriber levels at an ever increasing rate. We expect to see EE benefiting from all the hard work they have put in over the last 12 months and earlier. This includes having its 4G mobile network live in 120 cities and towns by the end of 2013 – with "double speed 4G" live in 20 cities too.
A recent agreement which will boost EE's 4G subscriber levels includes partnering with Virgin Media Business who have "piggybacked" onto EE's 4G mobile network and will offer virtually the full EE portfolio of phones and tablets to its customer base.
Vodafone and O2's strength is their existing 3G subscriber base. They will do their best to tempt these subscribers to upgrade to 4G and have some great incentives e.g. Vodafone are offering free Sky Sports Mobile TV or Spotify Premium whilst O2 are offering a "4G Happiness Guarantee" and its "O2 Refresh" incentive which lets you get the latest phone whenever you want.
However, Vodafone and O2 are at least 12 months behind EE in rolling out their 4G mobile networks and it is difficult to see either Vodafone or O2 taking the lion's share of the predicted 4G subscribers over the next 12 months.
The other mobile operator with a 4G licence is Three, but they are the smallest of the UK's mobile operators and will not have launched 4G till December, 2013. This seems to indicate that they will be very slow "off the blocks" and we don't anticipate them setting the 4G subscriber figures alight.
At the moment it seems that the clear winner for now and throughout 2013 and 2014 will be EE and we expect to see them increase their 4G subscriber levels at an ever increasing rate. We would not be surprised if they take up to 50% of the 4G subscriber sales forecast in the above research in the coming 12 months.
Other articles you may like to read :
Which is the Best 4G Network for the iPhone 5S?
EE Brings Open 4G Network to the intu Trafford Centre