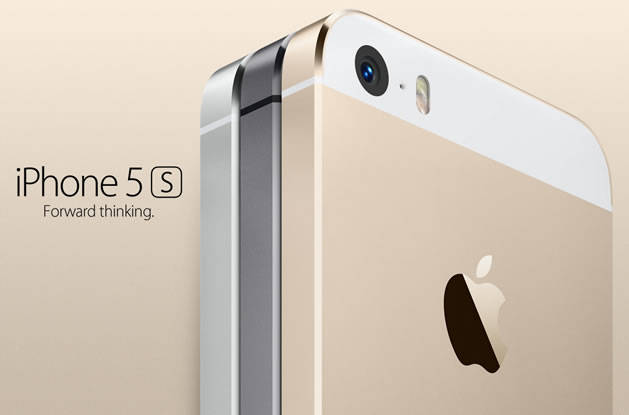 The iPhone 5S is out soon and UK networks have started revealing their prices for the handset. If you want to get your hands on one now's the time to start thinking about which network to go with, but to make things a little easier here's a comparison of each network's pricing and how their 4G coverage stacks up.
EE
EE has a number of different 24 month 4G plans available and all of them have an upfront cost. The iPhone 5S is available with 500MB of data for £26 per month along with an upfront cost of £259.99 (for the 16GB model), £349.99 (for 32GB) or £419.99 (for 64GB). Alternatively you can get it with 1GB of data for £31 per month and an upfront cost of £209.99, £289.99 or £359.99 (for 16, 32 or 64GB respectively). Then there's a 1.5GB plan which costs £36 per month along with a one off fee of £149.99, £269.99 or £349.99.
For £41 per month you can get 2GB of data with an upfront fee of £99.99, £199.99 or £279.99. £46 per month will get you 10GB of data and carries of fee of £49.99, £149.99 or £249.99, while at the top end £51 per month will net you 20GB of data with a one off charge of £19.99, £129.99 or £229.99. All of these tariffs include unlimited minutes and texts.
Those are some pretty steep prices but EE has the advantage of far wider reaching coverage than any of its competitors. So far 4GEE is available in 105 UK towns and cities, accounting for around 60% of the UK population, so it's the only network where you're actually going to get 4G coverage in a lot of areas at the moment. EE has also rolled out double speed 4G to 20 towns and cities (including London), so those locations should enjoy faster speeds than the competition. Plus EE has spectrum in all three bands (800 MHz, 1800 MHz and 2.6 GHz), allowing it to provide strong coverage indoors and out, whether in a rural or urban location. If money is no object and 4G availability is a priority then EE is the best network to get the iPhone 5S on.
O2
O2 hasn't yet announced its iPhone 5S prices, but it's likely to be at least as much as the Samsung Galaxy S4, which is currently available for £42 per month with 1GB of 4G data and no upfront cost, or for £47 per month with 5GB of data (3GB if purchased after the 31st of October) and no upfront cost, or for £52 per month with 8GB of data (5GB if purchased after the 31st of October) and no upfront cost. If anything we'd wager that even the 16GB version of the iPhone 5S will probably be a little bit more than that, but may still be available with no upfront charge. That gives you a saving upfront but isn't necessarily any better value than EE over the length of the contract.
O2 also has the disadvantage of not having very good 4G coverage, as so far it's only available in London, Leeds and Bradford. Plus O2 only uses the 800 MHz spectrum, which is great for rural areas as it travels a long way, but it's not so good for inner cities. However it can pass through walls better than the other frequencies, so O2 will potentially have good indoor coverage in the places that get O2 4G.
Vodafone
Like O2, Vodafone is yet to reveal its iPhone 5S prices. However, if we take the pricing of the premium Samsung Galaxy S4 as a rough guide, it's available for £38 per month with 2GB of data, £43 per month with 4GB of data or £48 per month with 8GB of data. All of these tariffs include unlimited minutes and texts and none carry an upfront fee.
Again, the iPhone 5S is likely to be slightly more expensive than that, but that still makes Vodafone far cheaper than either EE or O2. Vodafone 4G is currently only available in London, which gives it extremely limited coverage, though on the 28th of September it will be switched on in Birmingham, Nottingham, Leicester, Coventry and Sheffield. Vodafone owns large chunks of the 800 MHz band and more of the 2.6 GHz band than anyone, which should give the network superior indoor coverage and generally good all round coverage once it's rolled out to more places.
Three
Three doesn't even have a live 4G network yet, so if you want the iPhone 5S on 4G it's a nonstarter for now. However it's likely to launch a 4G network before the end of the year and when it does it promises low prices and unlimited data plans, which in the long run could make it a contender. Though with only a small chunk of the 800 and 1800 MHz bands its coverage isn't likely to be as fast or reliable as competitors.
Final thoughts
For now, if money is no object then EE is absolutely the network to get the iPhone 5S on. It has a wider variety of plans available including ones with both higher and lower data allowances than any of its current 4G competitors. It also has far wider reaching 4G coverage than any other UK network and a decent chunk of spectrum from all three bands, which should allow it to provide good coverage to all areas ultimately.
If money is a factor then go with Vodafone, or wait for Three, both of whom offer far better value and in Vodafone's case have the potential to rival EE's coverage and speed in the long run.
O2 has priced itself out of the race with EE level prices and limited coverage. It's likely to offer the iPhone 5S with no upfront fee, which may be tempting, but with expensive monthly prices it's unlikely to save you any money in the long run.