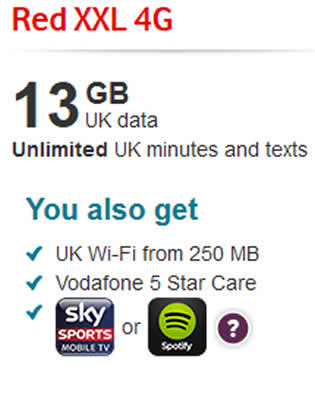 One of the initial problems with 4G was that data limits tended to be quite low while prices were prohibitively high. Both of these problems are gradually being hacked away at and Vodafone's new XXL 4G data plan aims to do away with worries of hitting a data cap.
But despite the name and the fact that it's Vodafone's biggest 4G plan it's not actually that huge an amount of data. Vodafone is giving customers 13GB per month with its new XXL large plan.
Now, that's hardly stingy. As an example of what it equates to Vodafone claims that you could stream 3000 songs with Spotify or 26 football matches with Sky Sports Mobile TV before you hit your limit and those, not coincidentally, are services which you can get for free with a Vodafone 4G contract.
It's also a substantial jump over Vodafone's existing data plans. Previously the most you could get was the XL tariff which gives you 9GB per month. But when you consider that EE offers customers up to 50GB of data and Three even has unlimited data on some of its tariffs it doesn't seem all that impressive.
Certainly, serious data users will still want to look elsewhere, though Vodafone at least beats O2 with its paltry 8GB limit.
Vodafone's new plan also isn't exactly cheap. Prices start at £45 per month on a 24 month contract with a handset included, though for higher end handsets you're looking at up to £62 per month.
Considering that you can get 20GB of data on EE from £37.99 per month, with a phone included, Vodafone's new tariff really doesn't seem great value. Still, it's a step in the right direction.
Looking to find out more about Vodafone 4G?