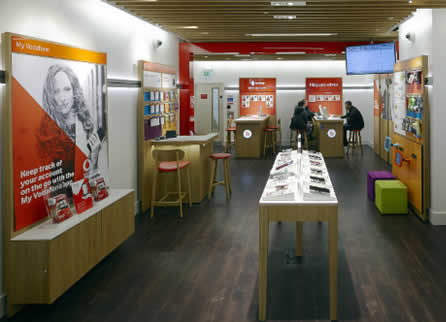 Online might be the future for many companies, but Vodafone is intent on ensuring its high street business stays strong too.
It's doing that in a couple of different ways. The first is to open a whole bunch of new stores. These will bring the total number of Vodafone stores up from 357 to over 500 and the new stores will be spread out all over the UK with many of them appearing on the high street and in business districts, to complement those which already exist in major shopping centres.
Obviously more stores makes it more convenient for more people to actually go in, try a phone out and get a face to face service.
But Vodafone is also re-thinking the way its stores work to improve the shopping experience once you actually get there. That in itself will take several forms. For one thing the company is adding a 'Kids Zone' to its stores, which is a safe place for children to use age-appropriate apps and games on phones and tablets, leaving their parents free to do the important things, like getting a shiny new handset.
Vodafone is also trying to link up the online and in store experience, so for example you'll be able to order a handset online or over the phone, do a real-time stock check and pick it up from your local store the same day for a smooth, multi-channel experience.
All of this could help Vodafone pick up new 4G customers too. The network is still in the early days of 4G and many people still haven't experienced it yet, so it can be a hard sell. By both increasing the number of stores and improving the in-store experience Vodafone can get more people into shops and trying out Vodafone 4G for themselves so they'll know first hand just how much better than 3G it is.
So whether people go in to try out a phone and 4G then buy it on the spot, or go home and order it online, or think it over then order it online for pick-up in store it's all going to be so much easier with more stores and better linking between the retail channels.
Better yet, with Vodafone's walk-out working process customers will be able to get their phone set up in store with the help of an expert and even be given a run through of the key features, including 4G, none of which would be possible online.
Take a closer look at Vodafone 4G rollout across the UK.