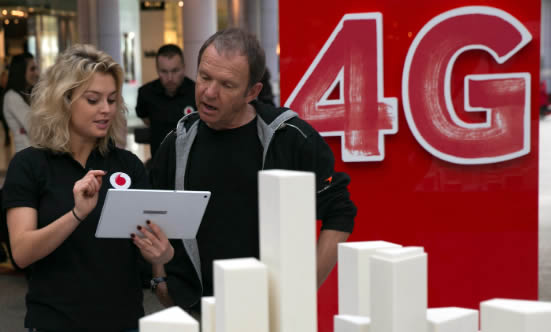 Vodafone 4G to arrive in 5 more cities this summer.
Vodafone's has announced that its 4G coverage will be extended to another five cities this Summer meaning it can offer 4G services to a further one million people and 35,000 businesses.
Currently, Vodafone's 4G network spans 233 towns and cities across the UK and the operator has acquired over 640,000 4G customers since it launch of 4G back in August, 2013.
Vodafone will add Basingstoke, Bournemouth, Portsmouth, Reading and Southampton to its list of cities with 4G this Summer bringing the total number of towns and cities with 4G access up to 238. The mobile operator has said that it will have 98% 4G indoor coverage across the UK before the end of 2015.
Vodafone is certainly making good progress with its 4G rollout and coupled with some excellent add-ons should should see the company rapidly adding to its 640K 4G customer base.
The add-ons for Vodafone Red 4G customers is a choice of either Spotify Premium or Sky Sports Mobile TV and in July Vodafone will be adding six months of access to Netflix free of charge as one of the 4G entertainment options.
Vodafone is spending £7bn on improvements to its 3G and 4G networks and services over the next 2 years via Project Spring. More on Project Spring here.
Looking to find out more about Vodafone's 4G network coverage?