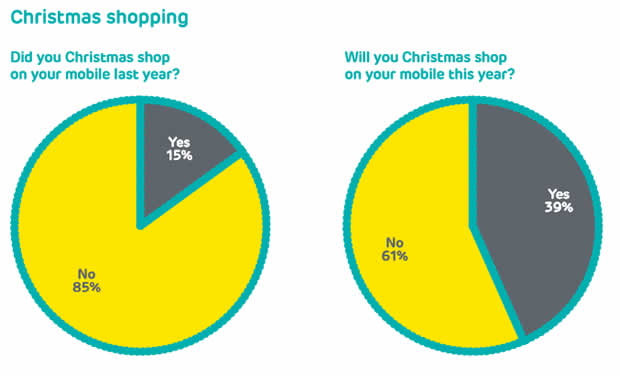 With so many stores going into administration and shutting down you'd be forgiven for thinking that retailers were in trouble and certainly the recession hasn't helped things, but really it's the high street and those that can't adapt to change that are in trouble, while online businesses can look forward to a bright future.
There are some fairly simple reasons for that. High street shopping is an old model, requiring people to physically go into a store, but when free time is precious and limited that isn't always ideal. So online shopping can become an attractive alternative. Couple that with often lower prices for ordering online and it's no wonder bricks and mortar stores are having a tough time.
Online on the other hand is set to go from strength to strength and the rise of 4G is playing a big role in that. Once upon a time even shopping online wasn't always convenient as you had to use a computer, which normally meant shopping from either home or work, rather than being able to do so when out.
Then 3G and smartphones came along and made it possible to shop on the bus or train or, well, anywhere else really, but 3G connections are slow and it's not always the most pleasant experience, so many people still waited until they had a Wi-Fi connection.
4G shopping online is so much faster
Now with 4G though people can do online shopping with the speed of a broadband connection when out and about. That's an almost revolutionary step, which is driving more and more people to shop online from their phones and tablets during time which might otherwise be wasted, for example during a commute.
Now that all four major networks offer 4G there's the opportunity for just about everyone to use it and the competition between networks is already driving prices down and making it more affordable.
Right now it's still not available everywhere, but its coverage is expanding rapidly, particularly for those with a 4GEE contract, as the network aims to bring 4G to 98% of the UK by the end of 2014, while the other networks aim for the same percentage by the end of 2015.
4G is already available in some of the UK's largest shopping centres
Speaking of EE, the network has already rolled out double-speed 4G to 20 cities, making online shopping even faster. Plus it's bringing 4G to shopping centres and other public spaces, like Manchester's intu Trafford Centre, where shoppers can now browse for things in a physical store before buying online if they so choose.
All of this is bringing increasing numbers of people over to 4G, which in turn drives more people to online stores, as the convenience of being able to shop anywhere and everywhere is hard to pass up.
Couple all that with the increasing popularity of phones and tablets in general, which in turn opens up more potential 4G customers, and we could see a real boom in online shopping across the UK. All retailers need to do is ensure that they have an online store and that it's easy to use across a variety of devices.
Though the most successful retailers will be those that have a dedicated app for shopping on, sites like Amazon and eBay, which aren't just known names but which also have tablet and smartphone apps, which streamline the whole online shopping experience and tailor it to a smaller touchscreen display.
More plan to do their shopping on a tablet or smartphone
For retailers it's clearly worth putting the time into a solid online infrastructure, because we're already seeing the impact of 4G, as EE reported late last year that 39% of its customers planned to do their Christmas shopping on a smartphone or tablet, up from just 15% the previous year (see graph above).
While the average monthly spend on mobile was way up too, with 35% of men spending over £100 per month and one fifth spending over £200, while 15% of women were also spending over £200 a month shopping on their phones or tablets, which is almost double the spend EE recorded five months earlier.
It's an exciting time for on-line retailers and customers alike. People can now shop quickly and conveniently any time, anywhere, while avoiding crowds and queues and often getting the best prices possible on things.
It won't do the high street any favours but don't weep too much for it. Times change and with 4G the future looks bright and fast, very, very fast.
Did you know "quad speed" 4G will be coming later in 2014 and its 20 times faster than 3G?