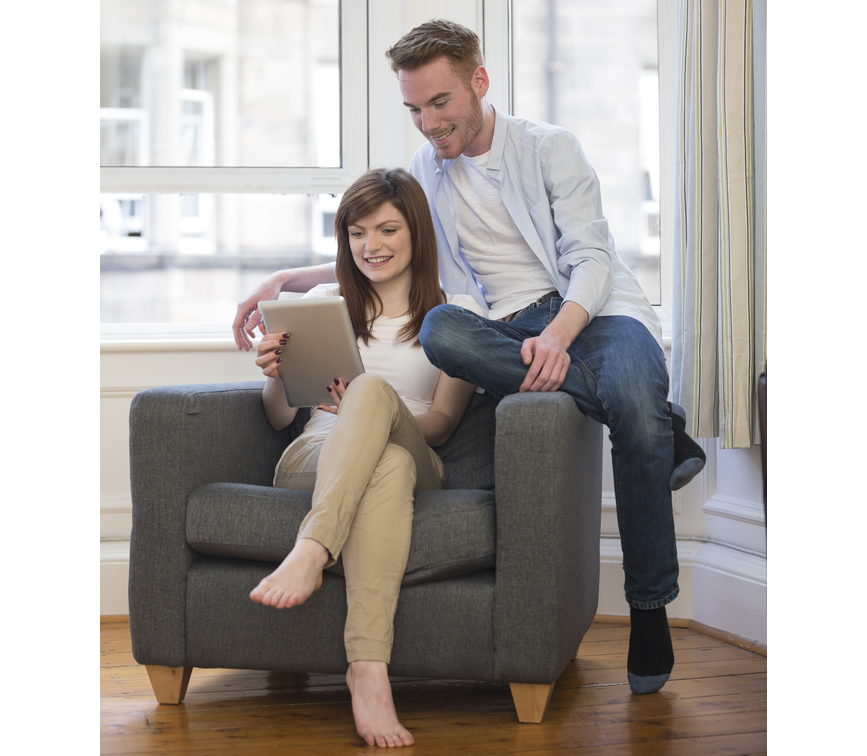 There was a time not so long ago when tablets were dismissed in many circles, but they've clearly caught on as according to Ofcom research 54% of UK households now have one. That's up from just 2% in 2011, making for a remarkably speedy rise.
Curiously though, despite tablets being portable they're mostly used at home and work. 37% of adults use them to go online at home while only 15% do when away from home, work or their place of study.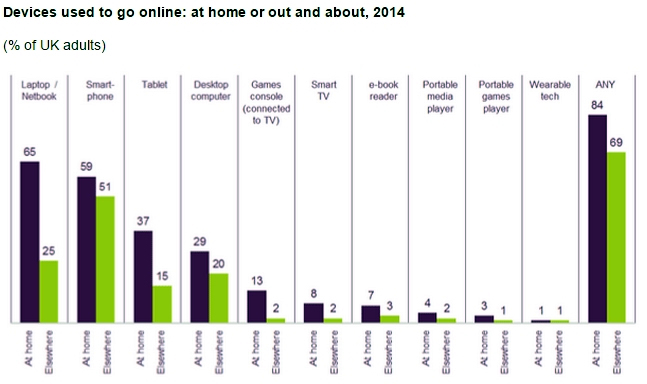 That's a little odd since when at home most people will have access to televisions, laptops and desktops, so there seems less reason to use a tablet there, though the portability of them can still come in handy, as you're no longer tethered to a desk or sofa.
The key factor may also be their use online as this is all the data refers to. Many tablets don't have mobile data and when out and about a Wi-Fi network isn't always available, so there's every chance they're used a lot for local content, just not to get online, though sadly the report doesn't cover their offline use when out and about.
Interestingly though even smartphones, which do have mobile data connectivity, are used for getting online at home more than when out, while laptops and netbooks, which are less portable than tablets and no more capable of getting an internet connection, are used by a greater percentage of people when away from home than tablets are. So the usage of these devices isn't quite what we'd expect.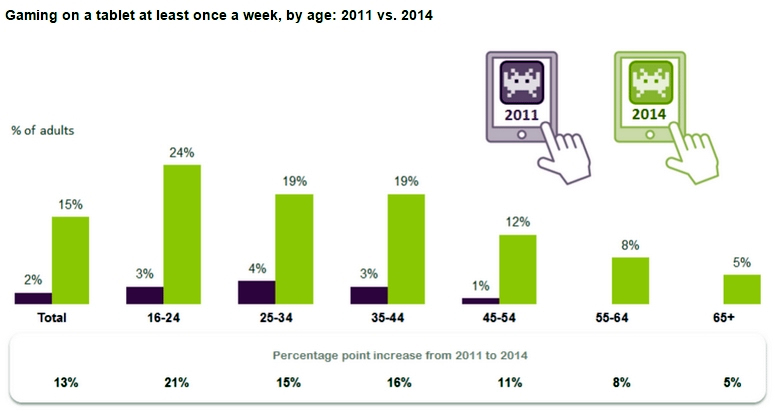 Still, despite their usage primarily being at home it's clear that tablets are getting a lot of use from a lot of people across all ages. Ofcom reports that 71% of children aged 5-15 had access to a tablet at home at the end of 2014, while one in three children in that age range have their own tablet.
Even 11% of 3-4 year olds now have their own slate, but they're most popular among 35-54 year olds, with 64% reportedly having a tablet of their own.
The popularity is growing ever higher too, as 21% of households currently without a tablet stated that they were likely to get one within the next 12 months. If that pans out then by next year around 75% of UK households will have one.
It seems that tablets are proving particularly popular for apps and games, with 15% of adults using them for games. Even consoles, which are designed specifically for gaming, are only used by 17% of adults, so that's a pretty impressive figure, though dwarfed by smartphones, which 26% of mobile users game on at least once a week.
As for apps it seems that 86% of adults who go online on their tablet use them, while 48% of app users get their news from apps, but when looking up specific information a Google search still seems to be the most popular course of action, with 61% of app users heading to a browser.
And of course video is proving popular too, with 58% of tablet users watching videos online and 36% using catch-up TV services.