[caption id="attachment_716" align="aligncenter" width="300"]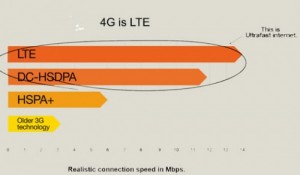 Three's 4G network launch may be the most challenging of all.[/caption]
Three will likely be bidding for 4G spectrum in the 4G auction held by Ofcom in early 2013. Currently, only EE has launched a 4G network in the UK with the other mobile operators many months behind.
Vodafone, O2 and Three may well have to wait up to seven months later than EE to launch their 4G networks. EE have been very clever by gaining permission to launch its 4G network in the 1800MHz band previously assigned for GSM mobile services and analogue TV. The forthcoming 4G auction is selling off 4G frequency spectrum in the 800MHz and 2.6GHz frequency bands.
Sometime ago, when the Orange and T-Mobile merger ( to become EE ) was approved, a condition was that EE had to sell off some of its 4G frequency spectrum in the 1800MHz to Three to ensure fair competition within the industry. This was approved by Ofcom with transfer dates to be approved.
The Register is reporting that only 20MHz of potential 4G spectrum at 1800MHz will be transferred to Three in October 2013 and the other 10MHz sometime around October 2015 or possible later. This needs approval from Ofcom.
4G.co.uk would anticipate that all the major mobile operators ( Vodafone, O2 and Three ) would be tendering within the 4G auction but for which bands ( 800MHz or 2.6GHz or both ) no-one knows at this time. We know that lower frequencies offer better indoor coverage for 4G and for better rual 4G coverage. So it's feasible that all bidders will want a chunk of each.
There are deeper issues with 4G frequency bands when you look at 4G phones. The current 4G enabled phones sold by EE work on the 1800MHz band and these would not work on the 800MHZ and 2.6GHz bands. In future, a true 4G phone will need to work on 800MHz, 1800Mhz and 2.6GHz frequency bands or each 4G phone manufacturer will have to make two different phone builds – one for 1800MHz and one for 800Mhz and 2.6GHz.
Vodafone, O2 and Three have all started their 4G network builds and have taken a flyer and a gamble on which 4G frequency spectrum they will be successful in acquiring via the upcoming 4G auction.
Back to Three now. Three's 4G position we feel is the most undefined. They have authorisation to launch 4G in the 1800MHz band which is likely to be no sooner than October, 2013 with added 4G bandwidth coming around 2 years later. Are they bidding in the auction for 800MHz and 2.6Ghz spectrum ? We don't know but if they aren't they won't launch 4G until some 11 months after EE.
Another point with regard to Three's 4G network is that they have engaged Samsung to install its 4G LTE Radio Access Network (RAN) and 3G / 4G LTE network equipment. This is Samsung's first mobile network installation in Europe and could lead to delays if Samsung needs to go on a "learning curve" when installing a 4G network in Europe for the first time.
We have heard nothing from Three's PR people about the Three 4G network lately maybe someone could help us out here.