[caption id="attachment_3232" align="aligncenter" width="300"]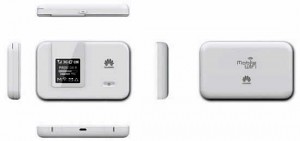 World's Smallest 4G Category 4 Mobile Wi-Fi Device[/caption]
Huawei have announced a new 4G mobile Wi-Fi device called the E5372, which at just 99mm x 62.2mm x 14.4mm makes it the smallest 4G category 4 mobile Wi-Fi device in the world according to Huawei. It weighs just 130g, so it's very light too, making it incredibly portable.
But size and weight aren't all that the Huawei E5372 has going for it, as it's also capable of blistering download speeds of up to 150Mbps and has a 1780 mAh battery, giving it a battery life of up to six hours, so it should easily see you through most train journeys or other periods when you're away from a static Wi-Fi network.
If you're feeling sociable you can even share it with up to ten other users at the same time- or ten more of your own devices if you're travelling with the entire contents of your office. It has a range of up to 100 metres so you can easily share it with people or devices at the other side of a room.
The Huawei E5372 also has several innovative features. It will automatically switch to a secure Wi-Fi network as soon as one becomes available and it also has two external antennas for improved performance even in low signal areas.
It features Mobile Control 2.0 which lets you monitor it and change its settings remotely with your phone or tablet, it can share files from SD cards over Wi-Fi and includes power optimisation features which reduce its energy consumption by 30%.
Finally the Huawei E5372 also has a backup battery and charging feature, which allows you to recharge your phone or tablet from it.
The E5372 is only available in white and initially it will only be launching in Italy and Saudi Arabia, however it's likely that a UK launch will follow.