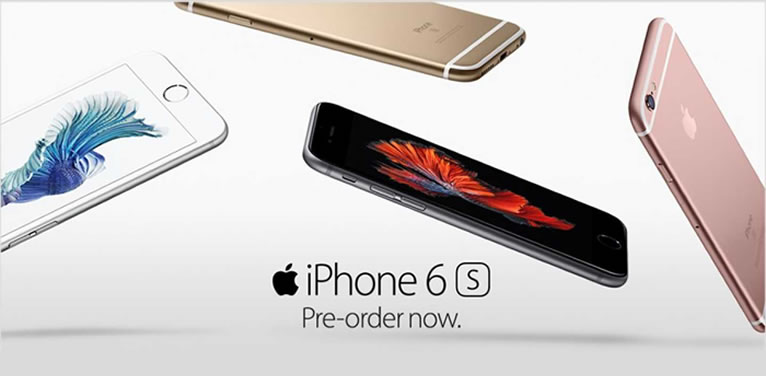 The long awaited iPhone 6S and iPhone 6 Plus are now officially on Pre-Order with EE and those looking to make sure they get one when they start shipping on September, 25th.
As we all thought, the two new iPhones look familiar in many ways, however, there is a new Rose Gold version which should get the thumbs up from our female readers. The Rose Gold version sits alongside the existing Gold, Silver and Space Grey colours.
Venture inside and the iPhone 6S is a significant improvement over the existing iPhone 6 with the main headliners being the introduction of the 4K camera, boosted processor performance and a new improved Force Touch interface.
Power boost
The power boost comes from the new A9 chip which ups the processing capability by 70% with a 90% uplift in graphics performance. Impressive!
Force Touch
A new innovation arrives in the form of 3D Force Touch interface which now detects
Perhaps the biggest innovation comes in the interface with 3D Force Touch with the clever new display able to detect pressure applied.
This allows users to enable quick shortcuts and also to preview (or "Peak") into screens and heres the neat bit, without having to fully commit to changing window and then "Pop" them open if you so wish. Changing apps is a breeze by hard pressing the screen's corner.
New iSight Camera
The main camera is uplifted to 12 mega-pixels bringing an additional 50 per cent more pixels along with better colour and image quality, than the iPhone 6. Of course, you get 4K video recording.
The secondary camera now has a flash! The Retina display doubles as a flash delivering an intense burst of light.
Apple have also introduced "Live Photos" which turns your photos into life with Apple assuring us it's not video, but we're yet to be convinced?
Other Improvements
The new iPhone 6S now comes with support for even faster 4G, LTE-A (or LTE-Advanced or 4G+) and faster WiFi which is now double the previous speed. It's also got a new 2nd generation Touch ID sensor and is made from stronger aluminium and has a stronger glass display.
Price and Release Date
Prices for the new iPhone 6S and iPhone 6S Plus have now been confirmed see more by following the link below. You can preorder now for shipping on 25th September.
They both become available to pre-order on September 12th and will be shipping on September 25th.