[caption id="attachment_3432" align="aligncenter" width="300"]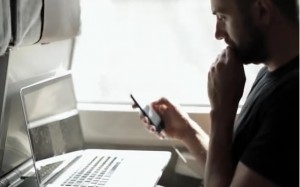 Take Your Office Outside With 4G[/caption]
EE have done a great job of highlighting the benefits of 4G for business users and specifically the fact that you can keep working even when away from the office, but now they've gone one step further with the suggestion that you needn't ever be confined by an office.
That's the concept of their new video, where they show a graphic designer working outside at London Southbank, because it inspires him, which is of great importance if you're in a creative field. But even if you don't need the inspiration, the fresh air and liberation of working outside could do wonders for any number of jobs. Check out the video below.
As you can see Nicolas Panayi (the graphic designer in question) is able to work from wherever he chooses (assuming he can get a 4G connection). He can move around and take pictures of things that inspire him rather than being chained to a desk and with the combination of a 4G phone and a laptop he doesn't lose any of the speed or flexibility of working in an office. He can still connect to the internet and even download large files at high speeds.
As he no longer needs an office at all he can also massively reduce his overheads, which as he points out in the video is great for a small business.
The video also highlights EE's data roaming add-ons, which let you control the amount you spend on data when abroad. You have a set allowance and when it runs out you have to top up, so you can't accidentally spend loads of money. The prices aren't super low, with data add-ons for most European destinations costing at least £5 for just 10MB and the prices going up as you get further afield, but at least you won't get hit with any surprise charges.