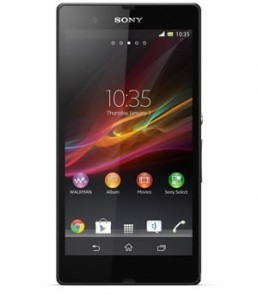 As we neared the end of 2012, we noted a surge in the number of leaks relating to 4G Phones. We expect this as all the 4G phone manufacturers will be launching their latest 4G phones and tablets at the Las Vegas CES Exhibition on January 8th.
Sony will be one of the phone manufacturers displaying their latest 4G phones and tablets at CES and more has surfaced about two new 4G smartphones we have heard of before. These are the Sony Xperia Z ( Yuga ) ( above ) and the Sony Xperia ZL ( Odin ) ( below ).
Sony Xperia Z and Sony Xperia ZL – more news breaks
News of both of these has broken before but the company's Japanese website has posted the images here - these are the first official photos of the Sony Xperia Z and Sony Xperia ZL we have come across. Specification details are sketchy but we are sure these are both 4G compatible Android phones. The Sony Xperia Z comes with IP57 certification while the Sony Xperia ZL is a lower priced version of the Xperia Z.
The only specification details that have been unofficially reported to-date are that both will come with Android Jelly Bean ( 4.1 or above ), 4G connectivity, a 5 inch Mobile Bravia HD touch-screen with a resolution of 1920 x 1080, a quad core Qualcomm APQ8064 processor, plus a Adreno 320 Graphics Processor Unit ( GPU ) offering 3D graphic capability and a 13 megapixel snapper.
4G.co.uk would not be surprised to see one or both of the above 4G phones coming as PlayStation Mobile certified. We think this as we know the HTC One XL recently became  the first 4G phone to be PlayStation Mobile certified and we expect many more to be added to the list.
More on the Sony Xperia Z and Sony Xperia ZL as we near the start of the CES show.