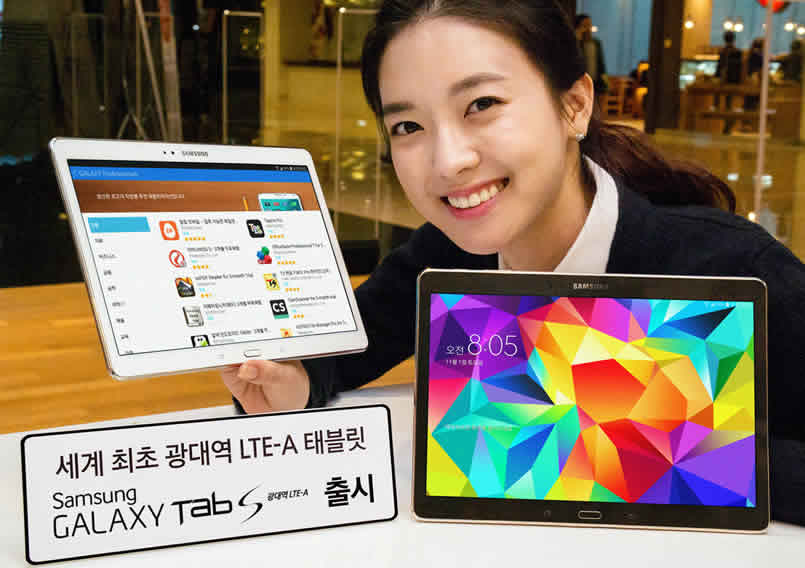 The Galaxy Tab S 10.5 is getting a superfast 4G LTE-A upgrade
Until now it's smartphones that have been getting all the LTE-A attention, but now Samsung has kitted out one of its latest and greatest tablets with 4G LTE-A support.
The Galaxy Tab S 10.5 came out earlier this year, sporting a 10.5 inch 2560 x 1600 Super AMOLED display with a pixel density of 288 pixels per inch, an octa-core processor with four cores clocked at 1.9GHz and four at 1.3GHz, 3GB of RAM, 16 or 32GB of memory, a microSD card slot, an 8 megapixel camera and a 7900 mAh battery, along with a slim 247.3 x 177.3 x 6.6mm build.
It's a great slate all round and Samsung's improved on it by releasing a version with LTE-A. The new tablet, simply dubbed the Galaxy Tab S broadband LTE-A, is identical to its predecessor in all other ways, but according to Samsung it theoretically supports download speeds of up to 225Mbps, enough to download up to 337 e-books in a single minute apparently.
With media being such a key aspect of tablet use it makes sense to equip one with LTE-A and we hope this is the first of many, especially since this specific slate may never make its way to the UK. So far Samsung's only announced it for South Korea and with the UK's LTE-A infrastructure being all but non-existent at the moment it may well not make it to these shores.
If it does though you can expect it to be fairly pricey, as it's set to retail for 799,700 won in South Korea, which equates to around £465.
Bear in mind that right now even if you can get one you're not likely to be able to make much use of its LTE-A capabilities initially unless you live in a major city, as while Vodafone has launched an LTE-A service in London, Birmingham and Manchester and EE is also rolling it out to London the rest of the UK is currently lacking LTE-A infrastructure, though hopefully that won't be the case for long.
Samsung Galaxy Tab 10.5S
Whist were all waiting for the 4G-LTE-Advanced version of the Tab 10.5S to arrive in the UK, you can still checkout the 4G version by following the link below.