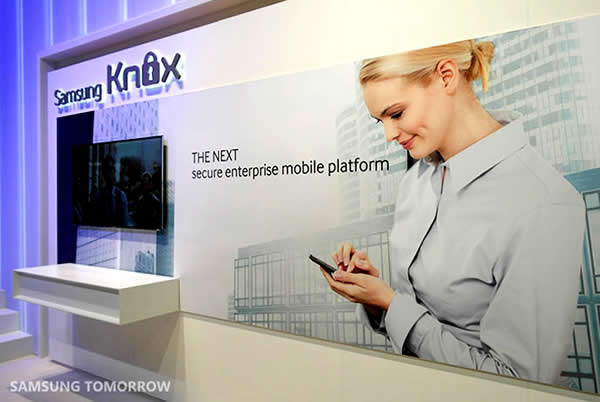 Samsung has announced the launch of KNOX 2.0, the next generation of its end-to-end secure mobile platform. With the uptake of 4G, business has become more mobile and the need for a secure mobile infrastructure has never been greater. KNOX is the solution to that problem.
KNOX 2.0 is available now on the Samsung Galaxy S5 and will be made available to other Galaxy devices through OS upgrades in the coming months, though no exact timetable has been laid out.
Designed with businesses in mind, it provides advanced data and privacy protection and brings much needed support to IT departments trying to implement and manage Bring Your Own Device strategies. Now working on the move, whether that means responding to emails, editing documents, uploading and downloading files, or anything else, is as secure as it is fast. KNOX 1.0 is a relatively recent service but it has already been taken up by a lot of companies so there's been a need to quickly evolve the product.
"KNOX has been widely deployed by enterprises since it became first commercially available in the market in September 2013," said JK Shin, President and CEO, Head of IT & Mobile Communications Division, Samsung Electronics. "As a result of this rapid adoption, we needed to evolve the Samsung KNOX platform to directly address the ever-changing needs of the enterprise as we demonstrate our commitment to protect and respond to future enterprise mobility and security challenges."
KNOX 2.0 includes a number of new and enhanced features, including cutting-edge core platform security, achieved through a number of security enhancements such as TrustZone-Protected Certificate Management, TrustZone-Protected ODE, Two-Factor Biometric Authentication and Real-Time Protection for System Integrity.
The user experience has also been improved to make it more flexible. It now supports all Android apps and includes a split billing service, assisting businesses in separately calculating the bills for personal and professional use apps on each device.
Plus KNOX 2.0 includes third-party container support and a simplified user enrolment procedure. Finally it also adds KNOX Marketplace, which is a storefront for KNOX and enterprise cloud apps and KNOX EMM, which provides cloud-based mobile device management and identity and access management.
In the meantime companies using other Galaxy handsets can still access KNOX 1.0. Thanks to 4G the world of work is evolving to allow people to conduct business anywhere, anytime and KNOX is right there with them.