It appears that the Samsung Galaxy Tab is not dead after all! Just this week we drew the conclusion that the Galaxy Tab was being replaced with the Galaxy Note 8.0, Samsung's replacement for the Galaxy Note 7.
[caption id="attachment_664" align="aligncenter" width="300"]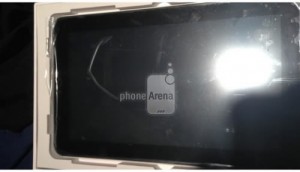 Samsung Galaxy Tab 3[/caption]
However, leaked images show that the Galaxy Tab does exist in the form of the Galaxy Tab 3.
At this point we have no information other than to confirm its existence, as the images we have are poor quality and tell us little, but common sense tells us that the screen size must be at least 10 inches as the Galaxy Note 8.0 is certain to launch and screen size is creeping upwards towards a full tab specification.
Although information is sketchy, our source tells us that the Samsung Galaxy Tab 3 is likely to be unveiled alongside the Galaxy Note 8 at the forthcoming Mobile World Congress in Barcelona in February. We're excited at the prospect and will be reporting on the whole event as it happens. We'll fully update you on both the Samsung Galaxy Tab 3 and the Samsung Note 8.0 as soon as more information emerges, so keep checking back here..
Source