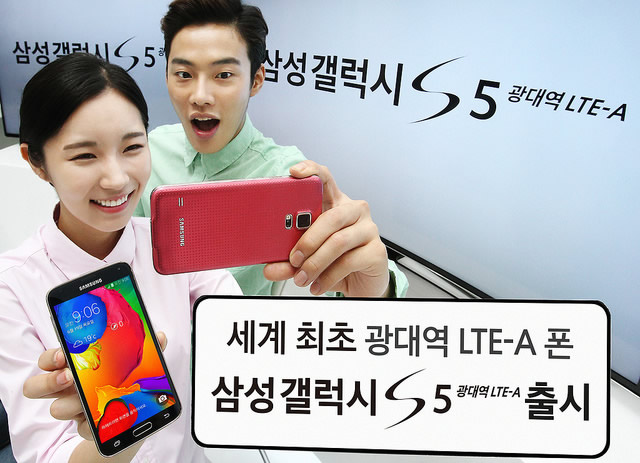 Samsung has officially announced the Samsung Galaxy S5 4G LTE-Advanced version in Korea. This brings the possibility of even faster 4G upload and downloads speeds.
To put this in perspective the lucky Koreans will be able to download a 100MB music video in around 4 seconds. Yes, we think its fast too but that is what Samsung claim themselves.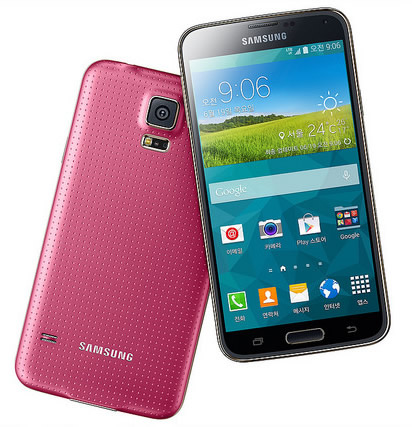 We say possibility , because to get the faster 4G speeds you also need access to a 4G LTE-Advanced network. Currently, such networks exist in just a few countries across the world.
Unfortunately, we don't have a 4G LTE-Advanced network here in the UK but EE began a trial of the technology back in November, 2013 in Tech City in London. EE has stated that they will launch 4G LTE-A in London this summer via Mobile Wi-Fi units followed by handsets in the second half of the year.
Back to the Galaxy S5 4G LTE-Advanced version which we predict will land in the UK later this year with EE. The Samsung Galaxy S5 4G LTE-Advanced will work on any 4G LTE-Advanced network at download speeds of three times that of standard 4G networks in the UK, with theoretical downloads speeds of 300 Mbps.
The smartphone comes fully loaded with a QHD Super AMOLED display (2560×1440) and a PPI of 587, along with a 2.5GHz Qualcomm Snapdragon 805 processor, 3GB of RAM, a main 16MP camera and an 800mAh battery. It runs Android 4.4 "Kit Kat" and supports 4G LTE-Advanced with download speeds up to 300Mbps.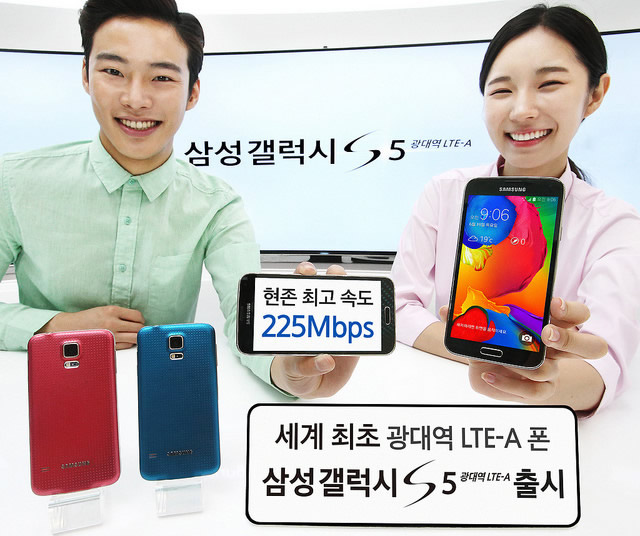 Just to recap unfortunately for us in the UK we have a long wait for this technology other than if live you in London, and even then this will arrive sometime later this year. However, its great to see EE leading the field here in the UK.
Read about EE's 4G LTE-Advanced trial here.
Samsung Galaxy S5 4G LTE-Advanced Specification
Network: 4G LTE-A OS: Android 4.4 "Kit Kat" Form: 142.0 x 72.5 x 8.1mm; 145g Display: 129.2mm (5.08-inches) WQHD Super AMOLED (2560×1440) Processor: 2.5GHz Quad core Qualcomm Snapdragon 805 RAM: 3GB Camera: main 16MP secondary 2MP Battery: 2,800mAh Colours: Charcoal Black, Shimmering White, Electric Blue, Copper Gold, Sweet Pink, Glam Red