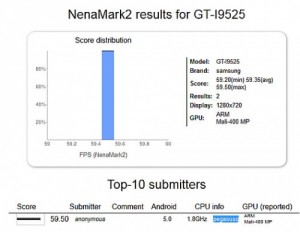 The Samsung Galaxy S3 has been a huge success for Samsung and the 4G version is currently on sale in the UK. We reviewed the 4G Samsung Galaxy S3 in November and awarded it 4.5 stars out of 5 – our review concluded "The Samsung Galaxy S3 beats all other phones in our opinion. This phone simply has more, and better, features".
You can see from above, that 4G.co.uk love the 4G enabled Samsung Galaxy S3 and so we are eagerly awaiting the arrival of the Samsung Galaxy S4. The rumours concerning  the S4 have been circulating for months but it looks as though we may be able to add more details.
What we have gleaned so far can seen below. They are only unconfirmed leaks yet its all we have as nothing official has been released. The latest news comes via Nena.se . Nena undertook a series of Graphic Processor Unit ( GPU ) tests for a whole range of Android phones. One of the phones listed is  the Samsung GT-I9525 ( believed to be the Samsung Galaxy S4 ).
The graphic above for the Bench Tests show the GPU  results with some other interesting facts. The tests detail the GT-19525 aka Samsung Galaxy S4 with an ARM Mali-400 MP Graphic Processor Unit and Android 5.0 ( Key Lime Pie ).
The information leaked to date for the 4G Samsung Galaxy S4 is tabled below :
-       4.99 inch Super AMOLED touch screen with a resolution 1920 x 1080 pixels
-       Quad-core Exynos 5450 processor operating at 2GHz
-       Eight-core Graphic Processing Unit ( GPU ) ARM Mali-400 MP
-       Smaller 64GB memory chip
-       Android 5.0 ( Key Lime Pie )
-       13 megapixel camera with a resolution of 4208 x 3120
-       4G enabled
4G.co.uk is  not totally convinced the Samsung GT-I9525 is actually the Samsung Galaxy S4 as earlier rumours differ to some of the details in the graphic above, but are happy to add them into the mix.