Three new rumours have surfaced since we last outlined what we knew about the 4G enabled Samsung Galaxy S4 and these are below.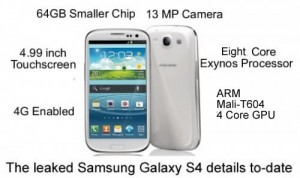 The first comes from an alleged authentic photo ( above ) of the
Galaxy S4
. If this is correct this will be the first photo ever seen. It looks to us as though it could be the genuine article and as it comes via SamMobile we tend to think it is. Looking at the photo above we can see that the bezel around the touchscreen is a lot thinner than on the Samsung Galaxy S3 giving the S4 a near full edge to edge 4.99 inch display. We also note the lack of traditional home and navigational press buttons which were previously leaked to have been removed. The second rumour is concerning the announcement and launch dates for the
Samsung Galaxy S4
. Originally, some industry sources said it would be announced at CES, then at Mobile World Congress ( MWC ) in February and the last we heard was April. Well now  Pocket-Lint is suggesting an announcement at MWC in Barcelona on 8
th
February. We agree that MWC would be the best place to make the announcement and hope we are correct. What was unveiled at CES by Samsung was the Octa Core Exynos mobile processor ( click link for more details ). This forms the third part of our rumour update. We are praying that the latest mobile processor from Samsung is included in the Samsung Galaxy S4 but it all depends whether or not sampling of the Octa Core Exynos has been completed or is at least is in progress but unfortunately this is not known. Based on the fact that Samsung announced the Octa Core Exynos mobile processor in early January at CES we are predicting it will indeed be present in the Samsung Galaxy S4. Based on the above three rumours we are updating our rumoured Samsung Galaxy S4 specification as follows : -       4.99 inch Super AMOLED touch screen with a resolution 1920 x 1080 pixels -       Octa Core Exynos mobile processor operating at 1.8 GHz -       Four-core Graphic Processing Unit ( GPU ) ARM Mali-T604 -       Smaller 64GB memory chip -       2GB of RAM -       Traditional home and navigational press buttons removed -       13 megapixel camera with a resolution of 4208 x 3120 -       Android Key Lime Pie ( 5.0 ) -       4G enabled plus NFC This brings us back to the release date for the Samsung Galaxy S4. 4G.co.uk predicts an announcement at MWC in February followed by the Galaxy S4 going on sale in shops sometime during April.