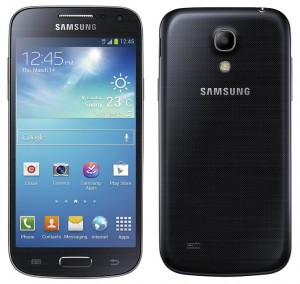 The Samsung Galaxy S4 Mini is the Samsung Galaxy S4's little brother. It's smaller, cheaper and less powerful, but it's still a solid little handset in its own right. It's also available now with 4G from EE, so for those who want to enjoy 4G but don't want to splash out on a flagship handset it could be well worth a look.
It's certainly not going to be threatening any top end handsets with its 256 pixels per inch, 4.3 inch 540 x 960 Super AMOLED screen, but combined with a 1.7GHz dual-core processor and 1.5GB of RAM it should make for a dependable mid range phone. Rounding out the specs there's an 8 megapixel primary camera which can shoot 1080p video at 30fps and a 1.9 megapixel front facing camera, plus it runs Android 4.2.2 Jelly Bean and at only 107 grams it won't be weighing you down. The Samsung Galaxy S4 Mini also has 8GB of built in storage with support for micro SD cards of up to 64GB to expand that, a 1900 mAh battery and a few premium features like NFC and an infrared port.
It actually has a lot in common with the Samsung Galaxy S4. The overall look of the handset is as the name suggests a mini version of the Galaxy S4, complete with rounded edges, a home button at the bottom, a plastic build and a metallic rim around the edge. It also has many of the same features as the Samsung Galaxy S4, such as 'Story Album' which allows you to create a photo album using the tag information from your photos, be it the people in them, the location or the time the photos were taken.
The camera itself has panorama and HDR modes alongside Samsung specific features like 'Sound Shot', which lets you record up to nine seconds of audio that will play over the top of an image.
Making use of the infrared port there's also an app called 'WatchON', which both gives you a TV guide - complete with suggestions of things that you might want to watch and a remote control which can be set up to work with most big brand TV's and cable/freeview/satellite services.
Another app that the S4 Mini has in common with the S4 is 'S Travel', which is chock full of information on travel destinations. Then there's 'Group Play' which lets you share music, videos, documents and games with any nearby friends that also have access to Group Play.
It has an impressively premium selection of apps and features for a mid range handset and EE have taken it a step further by also adding the music streaming service Deezer to the phone on certain plans.
The Samsung Galaxy S4 Mini is available in 'Black Mist' and 'White Frost' and you can get it from EE now for free on 24 month contracts starting at £31 a month.