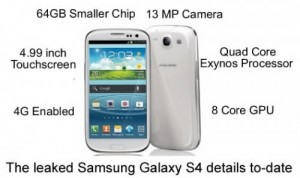 We have already posted a few leaks / rumours regarding the 4G enabled Samsung Galaxy S4. Of course, this will be the successor to the best selling Samsung Galaxy S3 which at last count cleared 18 million sales in Q3 of 2012 alone. 4G expect this figure to rise as the 4G enabled Samsung Galaxy S3 went on sale in November.
We remember the video below from September 2012, when a drop test comparison was conducted and the Samsung Galaxy S3 got a bit trashed and the iPhone 5 survived.
The latest news from Reuters reports that the 4G enabled Samsung Galaxy S4 will come with an unbreakable touch screen display. This is definitely needed not only to address the weaknesses shown in the above video but also because I dropped my own personal Galaxy S3 onto the road by accident ( from waist height ) and the screen cracked a little.
The unbreakable touch screen display will be manufactured using plastic substrate displays. The scratch-resistant Gorilla glass displays which have appeared in many smartphones this year have really helped in reducing scratches and damage to our beloved display screens and the arrival of unbreakable displays would take this to a new level.
4G.co.uk have previously predicted that the best place to launch the Galaxy S4 is without doubt the Mobile World Congress ( MWC) at Barcelona in February 2013. Reuters are predicting a launch date of April for the Galaxy S4 so this seems to coincide with a partial or full official announcement at MWC.
4G has reported in earlier posts the following leaks / rumours regarding the 4G enabled Samsung Galaxy S4 :
The specification for the 4G Samsung Galaxy S4 is shaping up as follows :
-       4.99 inch Super AMOLED touch screen with a resolution 1920 x 1080 pixels
-       Quad-core Exynos 5450 processor operating at 2GHz
-       Eight-core Graphic Processing Unit ( GPU )
-       Smaller 64GB memory chip
-       2GB of RAM
-       13 megapixel camera with a resolution of 4208 x 3120
-       Android Key Lime Pie ( 5.0 )
-       4G enabled plus NFC
4G.co.uk will keep track of the Samsung Galaxy S4 and make sure we post any future developments and we also promise to get a review phone and complete our Samsung Galaxy S4 4G Review at the earliest opportunity.