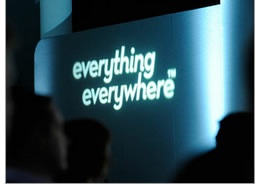 Everything Everywhere ( EE )  has transferred nearly 50% of its customers to contracts thanks to increased demand for smartphones. It was good news compared with the fact that mobile termination rate cuts has resulted in decreased sales, which dropped by 2.5% to £1.50bn.
The company said that for the first quarter, sales would have increased by 2.9% if they had not been affected by the MTR changes. Smartphones were still in high demand, with 71% of customers on contract opting for them, compared with just 57% last year. A total of 90% of new customers had bought smartphones, up on the 82% who had chosen the devices last year.
The increase in interest in smartphones, also resulted in more data use. Revenue for non-messaging data increased from 17% to 27% of ARPU, while messaging and data together grew to 45.5% - an increase of 17%. Blend ARPU (combined postpaid and prepaid) grew by 4.5%.
The operator gained a total of 151,000 new customers over the first quarter - echoing the industry trend for a drop in prepaid customers. It lost 494,000 pay-as-you-go customers - 100,000 more than over the same period last year. It gained 886,000 postpaid customers - an increase of 7.3%.
Everything Everywhere also stated that it was reorganising its customer service operation to meet the growing demand for smartphones. The quarter also saw the company restructure its head office, consolidate the supply chains of T-Mobile and Orange, and cut head office space by 38%. This all contributes towards its plan to save £3.5bn by 2014.
CEO of Everything Everywhere Olaf Swantee said that the company was seeing an improvement in underlying service revenues, powered by quick data revenue growth, as its customers are upgrades to smartphones and higher-value postpaid contracts. 'We continue to make major strides improving our current network experience such as better signal sharing and faster 3G data services, and we plan to start to introduce 4G LTE for the benefit of UK consumers and businesses by the end of the year, pending regulatory approval, he added.
The operator has also finished its roll-out of 3.5G, in the UK, which offers data download speeds that are 50% faster than 3G.