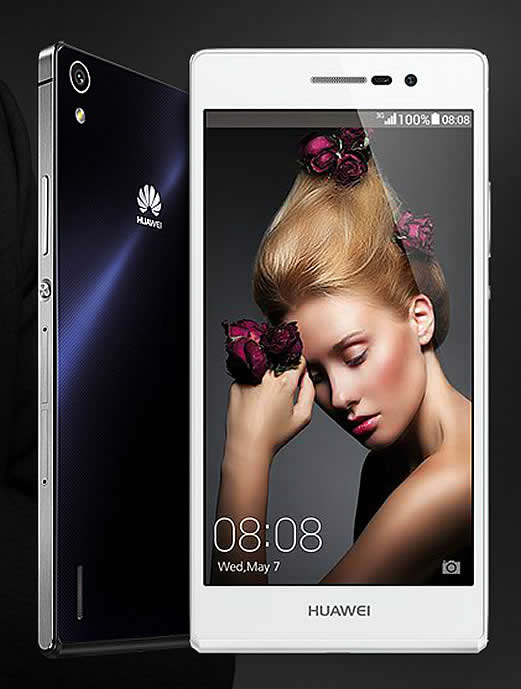 Huawei's new flagship 4G smartphone coming soon
We're very close to the launch of Huawei's latest flagship, the Ascend P7, and while it hasn't amassed the same level of interest as the HTC One M8 or the Samsung Galaxy S5 it's still an exciting handset in its own right.
The big news with the Huawei Ascend P7 is that it supports high speed 4G LTE, which is becoming increasingly common but which last year's model, the Ascend P6, didn't. In fact at just 6.5mm thick the Huawei Ascend P7 has the honour of being one of the slimmest 4G smartphones on the market and for that matter one of the slimmest smartphones full stop.
It's got more than 4G and a slim build going for it though. The whole design is premium, with a metal frame and curved bottom edge breaking up the otherwise sharply rectangular look of the handset. We're not quite in HTC One M8 territory but this is a good looking phone.
It's a joy to use too thanks to a 5 inch full HD 1080 x 1920 IPS LCD display with a pixel density of 441 pixels per inch, which is enough for it to go toe-to-toe with any other flagship.
Performance is slick as it has a 1.8 GHz quad-core processor and 2GB of RAM, so whatever you're doing, wherever you are, online or offline the Ascend P7 will get the job done with its combination of high end innards and super speedy 4G connectivity. Whether you're streaming videos, playing online games, checking your email or uploading photos it won't break a sweat.
Its camera is a real star too, with a 13 megapixel snapper on the back delivering high quality shots, while an industry-leading 8 megapixel front facing camera makes it the perfect phone for selfies and video calls.
It's on the latest version of Android (4.4.2 KitKat) and it has a large 2500 mAh battery to keep it going all day and beyond. There's only 16GB of storage but a microSD card slot should alleviate any concerns and with Bluetooth 4.0 and NFC alongside the aforementioned 4G it's well equipped for connectivity options.
The Huawei Ascend P7 will start launching across the world this month and it carries a recommended retail price of 449 Euros (£367).
Have you read our Galaxy S5 review?