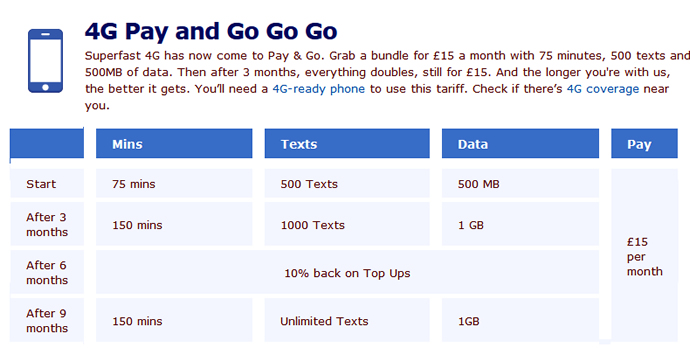 With
4G
being as pricey as it is, flexibility is a good thing and while
EE
still has the largest range of pricing models O2 is closing the gap with its new 4G Pay & Go Go Go plan.
The plan will set you back £15 per month and gives you 75 minutes, 500 texts and 500MB of data, which frankly isn't very much. But it gets better with time, as after 3 months it jumps up to 150 minutes, 1000 texts and 1GB of data, all for the same price. Then at 9 months you start getting unlimited texts, along with the same 150 minutes and 1GB of data, which is actually pretty good value overall, though surprisingly stingy on the minutes.
If you feel the need for more than 1GB of 4G data there are a selection of bolt-ons available too, with £3 a month getting you an extra 100MB, £6 netting you 500MB and £10 landing you with an extra 1GB.
So it's not quite pay-as-you go since you still pay monthly, but it's a lot more flexible than a standard contract as you can cancel at any time, and once you get through those awkward first few months it starts to become reasonable value for money.
It also falls under O2's 4G happiness guarantee, so if you don't get on with it you can switch back to 3G on your next monthly anniversary date.
O2 plans to give customers even more 4G options next month with the launch of 4G mobile broadband tariffs, which will be available for 4G tablets and dongles, though pricing and data allowances are yet to be confirmed.
This is all a good start, but with EE already moving on to LTE-Advanced networks, O2 has a lot of work to do.
 Useful reading :
EE Is Europe's Fastest Growing 4G Mobile Operator