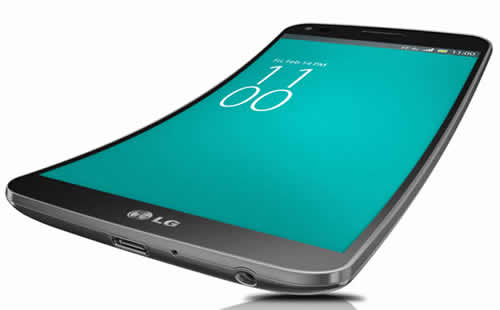 EE has announced that it will be adding the LG G Flex to its portfolio of 4G phones. The G Flex will be on display in a number of EE high Street stores prior to its formal unveiling in February.
EE will have the LG G Flex on display in the 10 stores listed below up until it goes on sale. The idea will be to let customers experience the revolutionary curved handset in action along with its self-healing technology.
The LG G Flex is the world's first curved smartphone and comes with an impressive specification. It comes with Android Jelly Bean, which we are sure EE will make upgradable to Android KitKat when the G Flex goes on sale.
The display is a 6 inch HD screen with a resolution of 1280x720 pixels (PPI = 244.7) and this is powered by its Qualcomm Snapdragon 800 2.2GHz quad-core processor which is supported with 2GB of RAM and 32GB of on-board memory.
The main camera is 13-megapixels with flash whilst connectivity includes 3G/4G, WiFi, Bluetooth and NFC.
Whilst the LG G Flex is on display within EE stores we are sure most of the interest will come from its curved display and its self-healing capabilities.
LG say that the curved display of the G Flex "mirrors the contours of the human face" and this puts the "user's mouth closer to the microphone than a conventional smartphone". "With the G Flex in landscape mode it offers an immersive experience via its improved viewing angles".
LG has also introduced self-healing technology. The rear cover of the LG Flex is coated with LG's proprietary special elastic coating which is able to recover from scratches in less than one minute.
Sharon Meadows, Director of Devices, EE: "LG is renowned for its technical innovation so we're pleased to be working with them to bring the G Flex to UK consumers. The G Flex is perfectly optimised to take advantage of our unique double-speed 4G network and will provide users with an immersive viewing experience so they can make the most out of watching video on the go."
The LG G Flex will be available in Titan Silver at the time of launch and will cost somewhere around £550 for a SIM free version based on a direct cost comparison with the price in Korea.
The LG G Flex will be on display in the following EE stores:
London – Westfield Shopping Centre, Stratford E20 1EH London – Westfield Shopping Centre, White City W12 7GG London – 155/157 Oxford Street, W1D 2JH Kent - Bluewater Shopping Centre, DA9 9ST Nottingham - 16 Clumber Street, NG1 3GA Manchester – The Trafford Centre, M17 8AP Brighton – 209-210 Western Road, BN1 2BA Cambridge – 40-41 Lions Yard, CB2 3NA Merry Hill – The Merryhill Centre, DY5 1QX Sheffield – Meadowhall Centre, S9 1EN
LG G Flex detailed specifications
Dimensions :
160.50 x 81.60 x 8.70mm
Weight :
177.00 grams
Battery capacity
: 3500 mAh
Colours :
Titan Silver
Display:
6 inch, HD 720x1280 pixels
PPI =
244.7
Processor : 
2.2GHz quad-core, Qualcomm Snapdragon 800
RAM :
2 GB
Internal memory :
32GB
USB :
Micro-USB
Main camera :
13-megapixel with flash
Front camera :
  2.1 megapixel
Operating System :
  Android 4.2
Connectivity :
Wi-Fi, Bluetooth v 4.00, NFC, 3G and 4G.