[caption id="attachment_570" align="aligncenter" width="300"]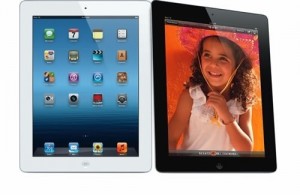 The 4G iPad is rumoured to surface and the iPad mini will launch soon.[/caption]
News has broken via the Guardian newspaper that Apple will be offering the iPad with 4G LTE. It makes common sense for this as the new iPhone 5 already supports 4G LTE in the UK.
Of course, the iPad was released earlier this year but to-date there has been no mention of an iPad LTE version until now. No information was available on pricing or an availability date but we here at 4G.co.uk would see this as a 2013 release. However, as the new iPad LTE will have new dual-purpose 3G and 4G antennas and a dual-purpose 3G and 4G chip we expect the price to increase some. The benefit of course is that your iPad LTE will download up to FIVE times faster than one connected to a 3G network.
The new iPad LTE version is also rumoured to include a better battery life and the new smaller 30 pin "Lightning Connector" which we saw on the new iPhone 5. A Lightning to 30-pin Adapter" costing £24.99 is needed to connect to the older connectors ( e.g. docking station ) as Apple currently don't ship one with its products.
It also seems that the much rumoured iPad mini with a 7.8 inch screen may be ready to buy this November. The first iPad mini will come with Wi-Fi only. The reasoning behind this is to keep pricing competitive against the Google Nexus 7 and the Amazon Kindle Fire. It is anticipated that the iPad mini will be priced at around or under £250.
A later version of the iPad mini would be a 4G enabled device with improved battery life and the new smaller 30 pin "Lightning Connector" but no further details have been reported to date.
4G will keep you up to date on the latest rumours and news about Apple's iPad mini and the iPad LTE.