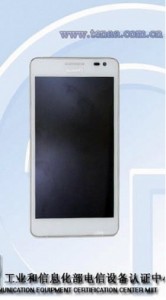 Huawei appear to be looking to be one of the major players in the  4G phones arena as news breaks of another smartphone from the company. The latest 4G phone to break cover is the Huawei Ascend D2 which has been leaked by Chinese website Tenaa and covered by Techradar.
Huawei currently have one 4G phone on sale in the UK and this is the Huawei Ascend P1 LTE and we undertook our Huawei Ascend P1 LTE Review recently - our reviewer concluded "With 4G you get faster download speeds and the Huawei Ascend P1 LTE 4G makes the most of that".
Another 4G phone also recently leaked was the Huawei Ascend W3 ( more here ). Heading back to the latest arrival – the Huawei Ascend D2 – this is another Android smartphone which is likely to be in competition with the forthcoming Sony Xperia Yuga and HTC M7.
Huawei Ascend D2 – the unconfirmed specification details
The Huawei Ascend D2 is reported to come with a 5 inch touch-screen display with a resolution of 1920x1080 pixels – this seems to be the standard at the moment. The dimensions come in at 140x71x9.9mm and the weight is a hefty 170 grams. We would expect the Operating System to be Android Jelly Bean ( Version 4.1 ) which is powered by some type of quad core processor with a GPU unit.
The specification details are, we admit, sketchy but the main thing is that we are aware of the Huawei Ascend D2 as a forthcoming 4G phone and that we can see it in the photo above. As soon as we here at 4G.co.uk here more we will be sure to add more details.