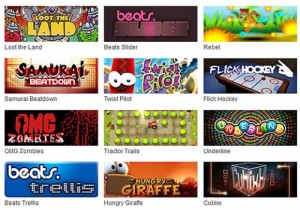 The PlayStation Mobile store went live back in late October and included details of a fistful of Sony phones plus some Sharp and HTC phones which gained PlayStation mobile certification. HTC fans will be delighted to hear that more HTC phones have been certified. Looking at the latest HTC phones added to the certified list of PlayStation mobile devices we spotted the HTC One XL has been certified.
4G sat up immediately when we realised that this is the first 4G phone on sale in the UK to gain PlayStation Mobile Certification. Users of smartphones that are PlayStation Mobile Certified can visit the Playstation Mobile store and download mobile games like those above from a growing range of mobile games. The games start at around 50p and increase up to £10 for the premium games.
HTC One XL owners  are now able to play the latest multi-player games over their 4G mobile network connection. The faster 4G network speeds and lower 4G latency delays will enable multi-player gaming at speeds up to 5 times faster than offered by 3G networks.
4G reviewed the HTC One XL recently when our reviewer concluded "The HTC One XL updates its predecessor the One X, with 4G. The One X got a five star rating though. Although both have the same impressive 8-megapixel camera, plus Beats Audio, the One XL only has a dual-core processor".
Of course, the HTC One XL is a 4G enabled phone which offers 4G download speeds, which are 5 times faster than 3G, only on the 4GEE network. Having the HTC One XL as the only PlayStation Mobile Certified smartphone in the UK will entice many PlayStation fans to buy the HTC One XL. HTC One XL users need a minimum of Android Jelly Bean ( 4.1 ) to be able to run the games. EE users will need to do an update from Android 4.0 to 4.1.
Some of the games the HTC One XL users can access can be seen above but full details can be found at the PlayStation mobile website.